We Are 4!!!! May 'Happily Ever After' Kit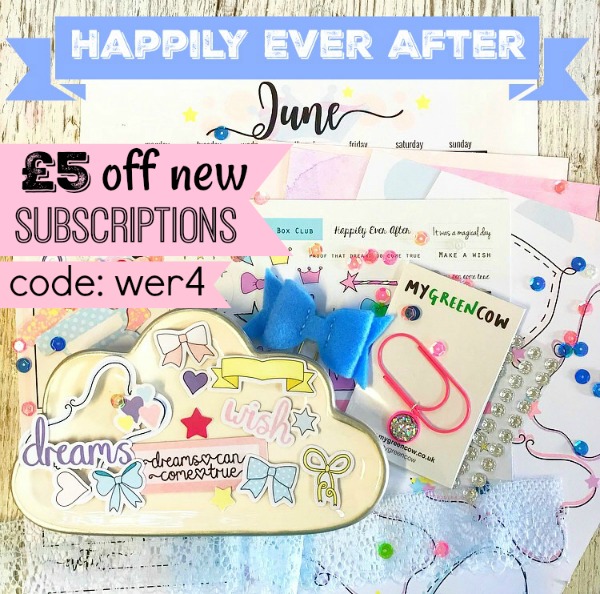 Yes, we are 4 this month!! These 4 years have flown by.
Thank you to everyone who has supported me & Lollipop Box Club the past 4 years. I want this month to feel really special. I'm planning quite a few fun things this month. My go to place to share all the fun stuff is always our Lollipop Chat Group. So if you aren't over there…you can join here.  You don't need a kit, but it's where I share all offers, any news, kit updates first, plus we have other fun things going on like swaps, challenges and it's the best place to share and pick up great crafty and planning tips.
So I'm starting this month with an offer. I thought £5 off a new subscription would be fab for those looking and wondering plus if you haven't had a box for a while, maybe you'd like to try one again?  You can subscribe here and use the code 'wer4'.  I'm going to run this offer through until the holiday Monday 6th May 23.59 UK as it's National Scrapbooking Day this weekend. So if you know anyone who you think would be interested, please do share. It works out from £11 for your first kit and it's free UK delivery….bargain!!
I wanted to share more about this month's kit. I'm going all princess on you this month. In case you didn't know, we are a Disney family. (you can follow me on instagram here if you wish) The fireworks show in Magic Kingdom over the Cinderella Castle each night is called 'Happily Ever After'. The music makes me tear up every time! To me, it's so special, magical and just makes me feel so full of love. This month's kit to me feels very special with it being 4 years today that I put my first ever kit up for sale, so I wanted this kit to feel special and also a have bit of me in it. Expect sparkles, bows, hearts, stars, dreams & wishes and lots of prettiness. This will also give you some idea of the theming for this months prompts and challenges in the group.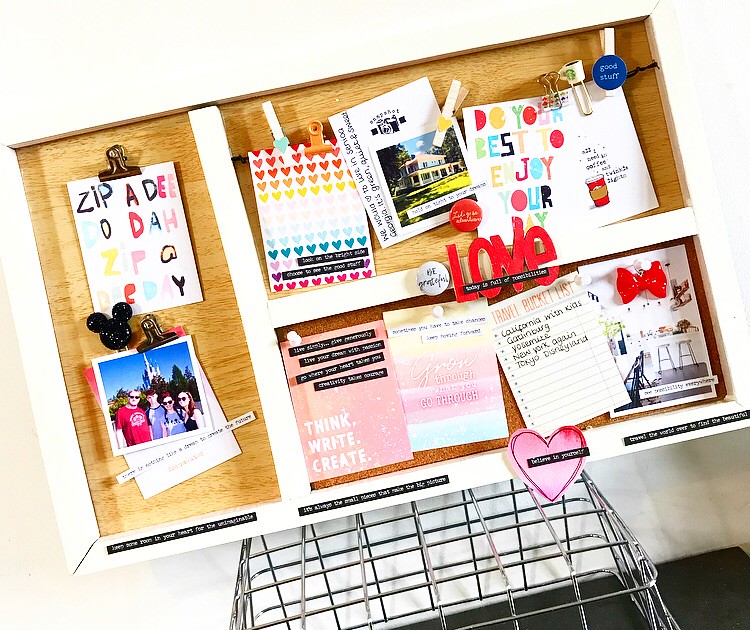 I've started off with the theme already on the YouTube channel. This Monday I created a motivational vision board to help us pursue our dreams. You can see this DIY project here.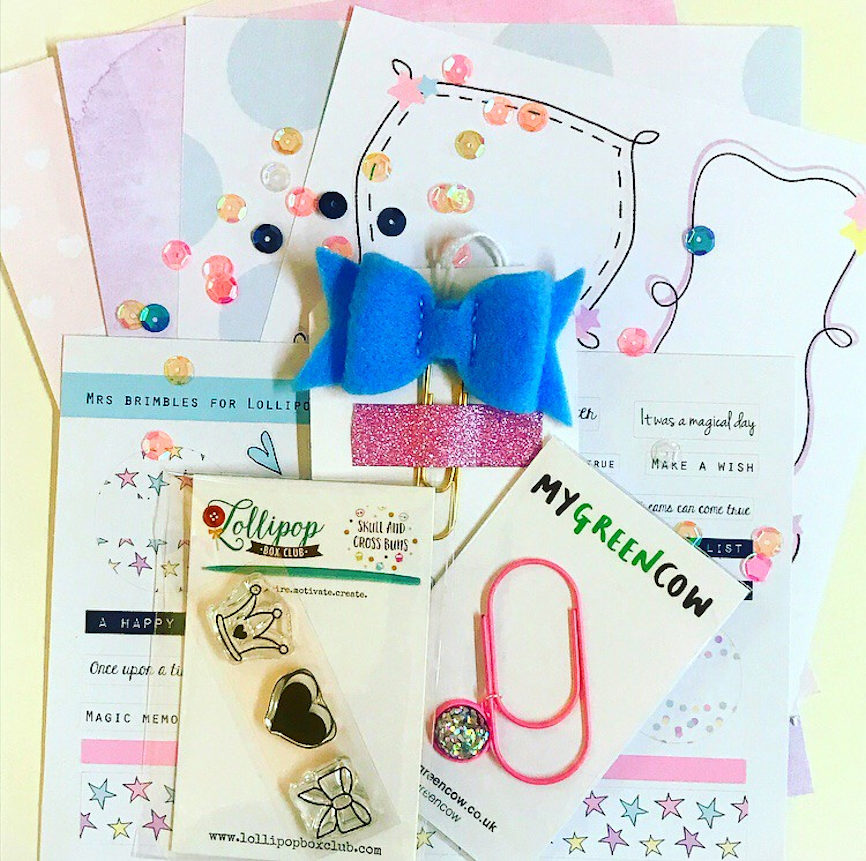 We are collaborating with Daisy from My Green Cow this month. Daisy has made all the big pink sparkly clips in this month's kit. We have a collaboration video coming up on the 22nd May where you will see us both designing with the kit.
You may also notice that the stamps are back this month. We've taken a couple of months break as I like to try and vary the kits, but this month we are back with a 3 piece set which I hope you will love.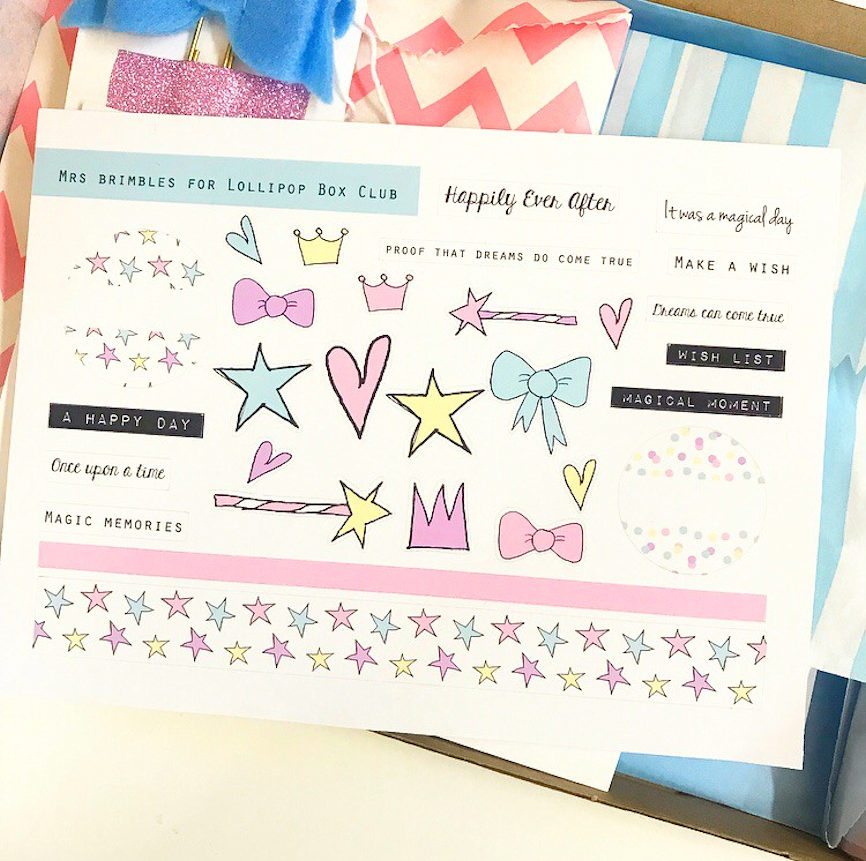 The Mrs Brimbles stickers had a really positive response last month. Here you can see this months. Love them!!  As well as the usual free kit planner download codes you receive with the subscription kits, you will also receive a code this month for some patterned paper downloads as an extra.
As I mentioned before it's National Scrapbooking Day this weekend. I decided not to host anything as there are events happening everywhere online and we did have a 'Scrap& Chat' online event in April. I will host a couple of challenges for the weekend in the chat group and I will be hosting another'Scrap & Chat' event at the start of June.  So keep your eyes peeled for that.
I thought it would be fun to have another happy mail swap this month, so I will be announcing more details on that soon too.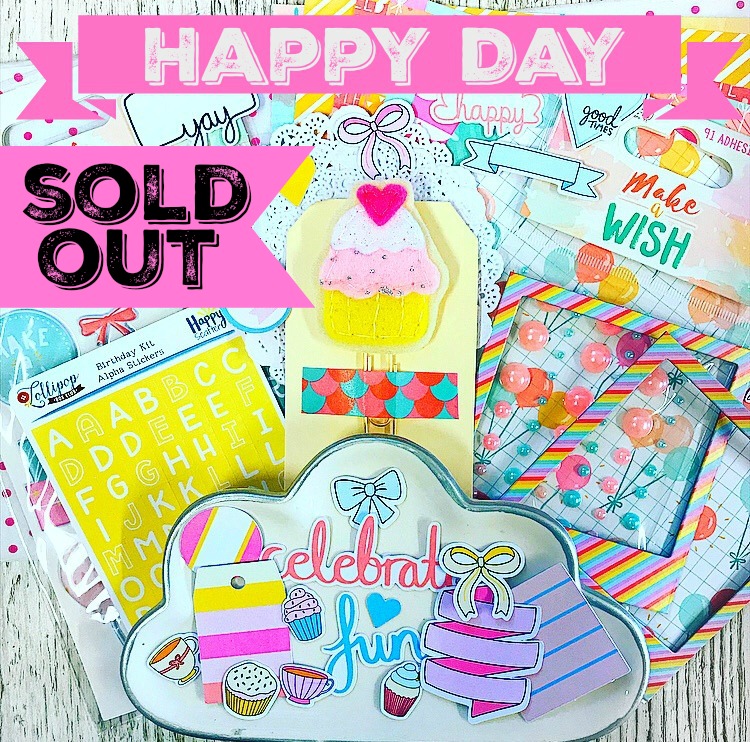 Thank you to everyone who purchased an exclusive 'Happy Day' kit at the weekend. These kits have now sold out. All kits were shipped yesterday so should start arriving tomorrow.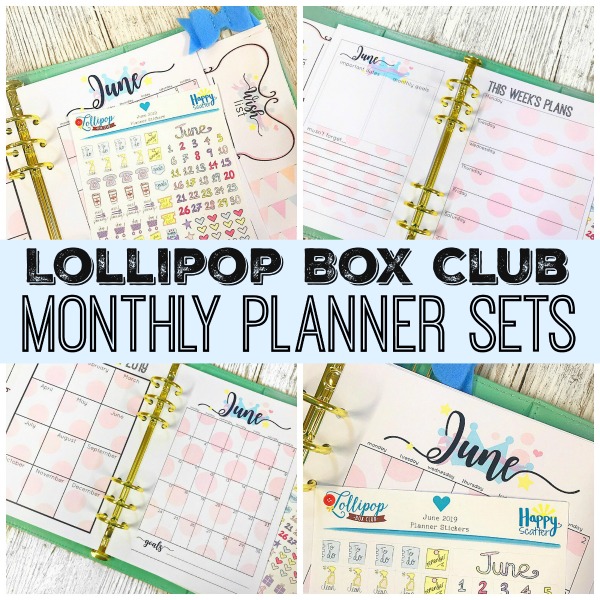 Finally another thank you to those of you who have bought the planner packs. The June packs are all leaving this week. They coordinate with the 'Happily Ever After' box kits. If you haven't signed up yet to these, you can do so here.  You will receive everything that you need for the month to keep you organised. All your planning pages (11 in total), stickers a postcard and an embellishment postcard to cut up and use.
I think that's it.  I hope you feel excited about this month's 'Happily Ever After'kit. 
I'll see you in the chat group : )
Have a wonderful month of May.
Much love Lisa xxx