Hi there Lollipop friends!
The 'Picnic in the Park' kit is such fun and what a lovely box to celebrate Lollipop's 7th birthday! Daisy from My Green Cow is the small business collaborator this month and her cut apart collage sheet is so cute as are Mrs Brimbles' stickers and all the lovely extra bits Lisa has sourced. I  love making a collage masterboard to use in other projects, who doesn't enjoy a bit of tearing, cutting and pasting?…So that's exactly what I've done?!
I started with a piece of lightweight card and gathered together the turquoise cloud tissue paper, the white, spotted and pink paper bags and the pretty floral vellum paper and tore them into different sized pieces without thinking about it too much! These were then glued down randomly to cover the base. Using the collage sheets from Daisy I fussy cut some of the elements and added them to the page. I added a thin coat of undiluted white acrylic paint and when that was dry stencilled dots randomly over the sheet using Distress Oxide ink. My masterboard was complete and ready to be cut up!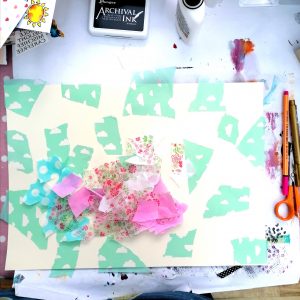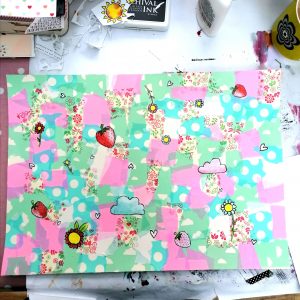 At this stage you could scan or photocopy your masterboard for future use.
First I decided to make a little envelope pouch 15 cm x 11 cm in readiness for a Happy Mail swap I'm taking part in. I machine stitched the sides but you could just as easily hand-stitch or use double sided tape. The envelope is lined with the strawberry paper from the kit. I've used a velcro dot fastening. I had some turquoise bobble trim in my stash and well, why not add bobble trim when you can?! I embellished with butterflies die cut from the master-board overlaid with die cut  floral vellum butterflies. I also added washi tape and threads and used a white Posca pen to roughly draw around the stencilled dots.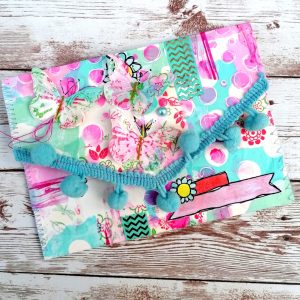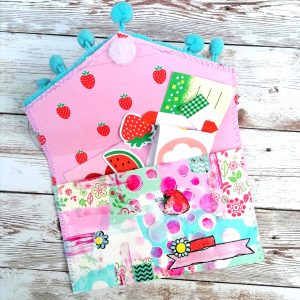 Next I made two Artist Trading cards embellished with Mrs Brimbles stickers and bits fussy cut from the collage sheet. The words are rub ons form my stash. On the reverse I've stuck a Weekly To Do list included in the kit as I thought the cards would be great to add in a journal as a reminder as to what happened when!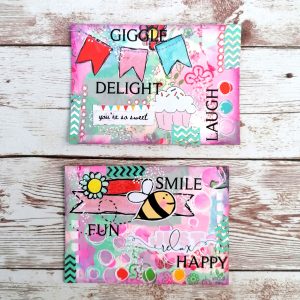 Who doesn't love a tag? I've embellished with ephemera pieces, stickers and bits from the collage sheet (some are raised on sticky pads for extra dimension) with the addition of threads and some pearl gems from my stash. The edges are inked using Ranger Distress Oxide.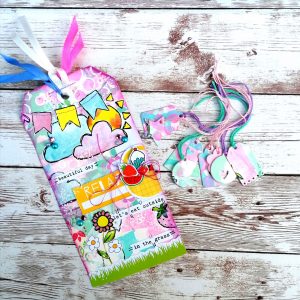 I've said before, I do love sending and receiving handmade cards. I cut two squares measuring 10cm x 10cm and before mounting them on pre bought white cards I machine stitched around the edges. I've used white Posca pen to make marks. The 'love you berry much ' stickers are so cute  I've popped one in each envelope so that when I send the cards I can use them to seal.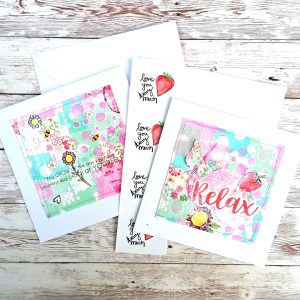 With the odd bits of master board left over I cut some tiny tags (see above) and threaded them with colour co-ordinated embroidery silks all ready to add to future projects!
I hope I've given you some ideas and that if you haven't made one before maybe you'll have a go creating a masterboard and then cutting it up to use in your projects. Don't forget to post photos in the Facebook group of anything you make as we all love to see how you use your kits!
I'll be back later this month with some more ideas!
Until then, Happy Crafting
Love Philippa