Chase Your Dreams – Journaling With A Challenge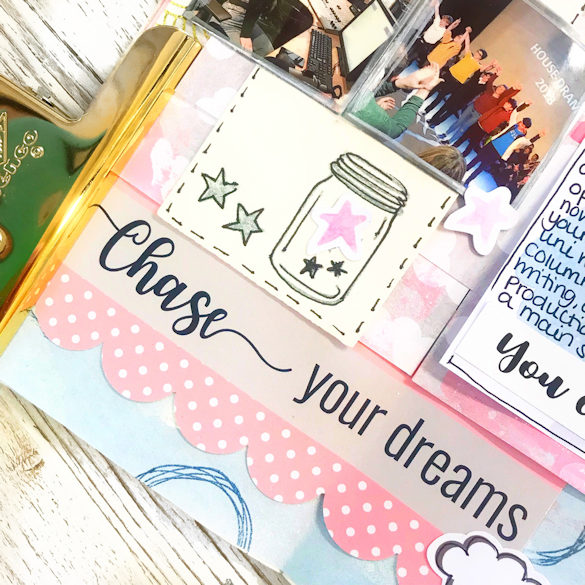 Hello!!  I figured it was time to get back in to creative journaling again. I haven't been creating too much lately. I've been more focused on getting organised for 2019, setting up planners, setting goals etc… but I've been eager to start creating once again.
So last night whilst in the middle of making dinner, I started on this page. You know when you just have to make something? I had no plans, but I did have these photos of the kids. They are doing so well at uni and school and both have had amazing first terms, I just had to document them. I'm having proud Mamma moments at the mo  : )
I created the background of the page using the 'Chase Your Dreams' kit with this white ink spray mist and this 6×6 Cloud Stencil.   
I let it all dry over night and then just finished it this morning. I was just going to pop it in my Travellers Notebook cover and then I thought it would be a good challenge to get us back in to journaling challenges.
Does that sound good to you?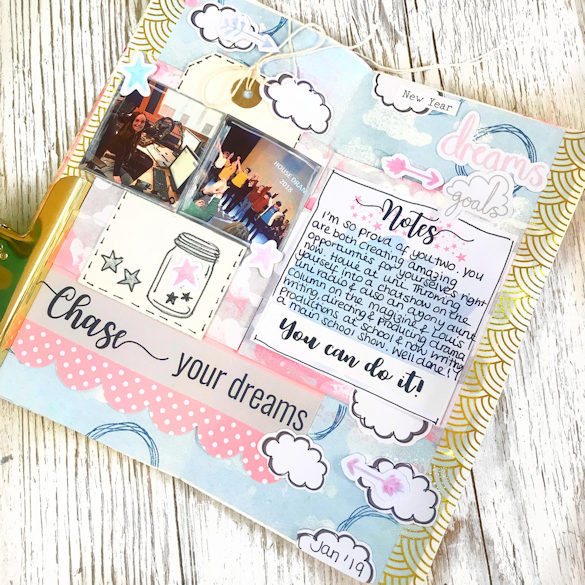 This is my journal page and the challenge is….. Create a page with the 'Chase Your Dreams' as your inspiration.
This could be your title, within your journaling, a photo of someone achieving or even sleeping, use clouds, feathers, dream catchers….
I trimmed down one of the pieces of notepaper from the kit for my journaling. This was so perfect to add to my page. It really helped it to stand out. The 'you can do it' was cut from the 'to-do' list in the kit and stuck across the bottom of the notes paper.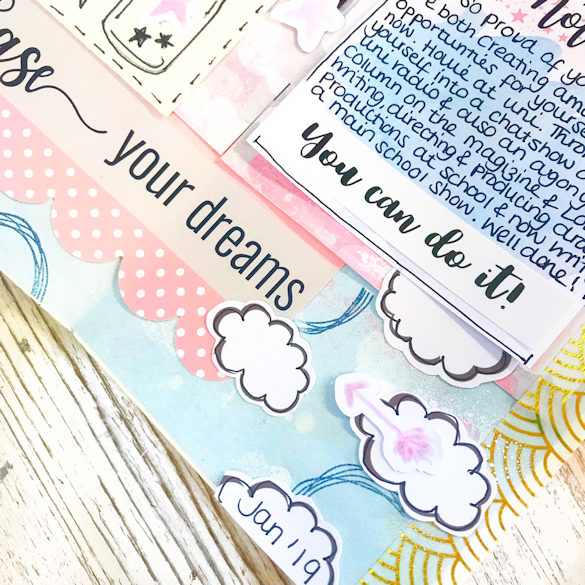 I also used the circles stamp randomly stamped over the page.  I cut the clouds from one of the papers from the kit and used lots of the die cut pieces too. I end up using loads of these every month. If you are the same, I also have extra packs of these and the stickers for sale every month that can be shipped with your kits. I also need more. I love using these on my projects.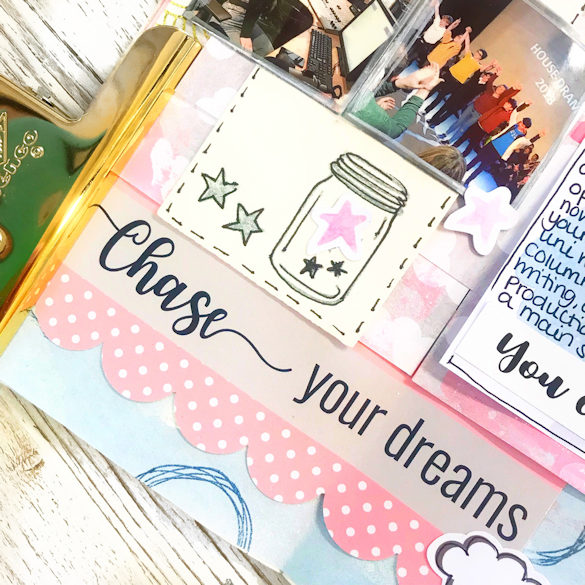 And I used the tag from the kit too. I just doddled a little on it and stuck both of my photos over the centre of it.
I hope you've enjoyed this today. It felt so good to be creating again. I hope you are finding your own creative time too.
If you would like to join in with this challenge or any other challenges this month, please create your piece and add to our Lollipop Chat Group here. 
You have until 16th February midnight UK and 1 winner will be picked and announced here on the blog.
Have fun.
Lisa x