Creating Frames with Lorraine
.
Hello, Lorraine here today with a 12×12 scrapbook layout, the April kit sure does send Good Vibes and was super fun to create with! As soon as I open the Little Rainbow Moon watercolour I just knew this had to be used on my first project using April kit. I also loved the cute die cuts, especially the little picture frames and although they don't appear on my layout I took inspiration from them and created a 'gallery wall' style design.
.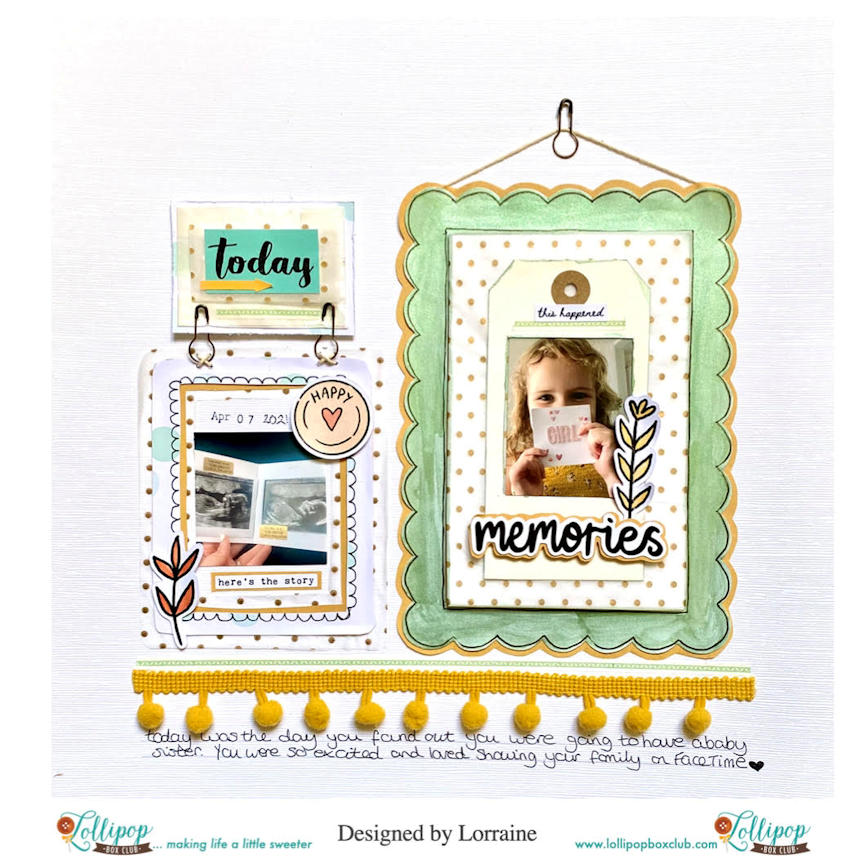 .
To create the three 'framed pictures' I decided to focus on the greens and mustard shades. The main scalloped frame was hand drawn onto watercolour paper, with a aperture cut from the centre and painted with the Little Rainbow Moon paint. The aperture was then covered in the gold dotted tissue paper and raised on 3D foam before adhering back in the centre. I cut the stamped image from the centre of the luggage tag (and put safely away to use on my next project) and placed a small photo into the aperture. To create a pop of the mustard around the scalloped frame I simply mounted the finished frame onto the back and fussy cut around the scallops.
.
The two linked frames on the left were created separately. The larger of the two is cut from the pretty mint dotted paper with an aperture cut from the centre, this is the backed with the Kraft paper and again an aperture cut from the centre. The whole frame is then mounted onto the gold dotted tissue paper. The smallest picture frame is created from one of the tiny glassine bags mounted onto the mint dotted paper, the word 'Today' is cut from one of the patterned paper borders and mounted onto the gold dotted tissue and raised on 3D foam. I embellished the frames with two of the die cut vines, the 'memories' word die cut and the circle 'happy'. I also added a couple of strips of the lovely Washi tape and a mustard arrow from the sticker sheet. The vintage safety pins were great as faux photo hooks, with the largest frame being 'hung' from one using a piece of the luggage tag string and the two joined frames having two of these clipped through and then a cross stitch of the string from the luggage tag used as decoration to each of these.
.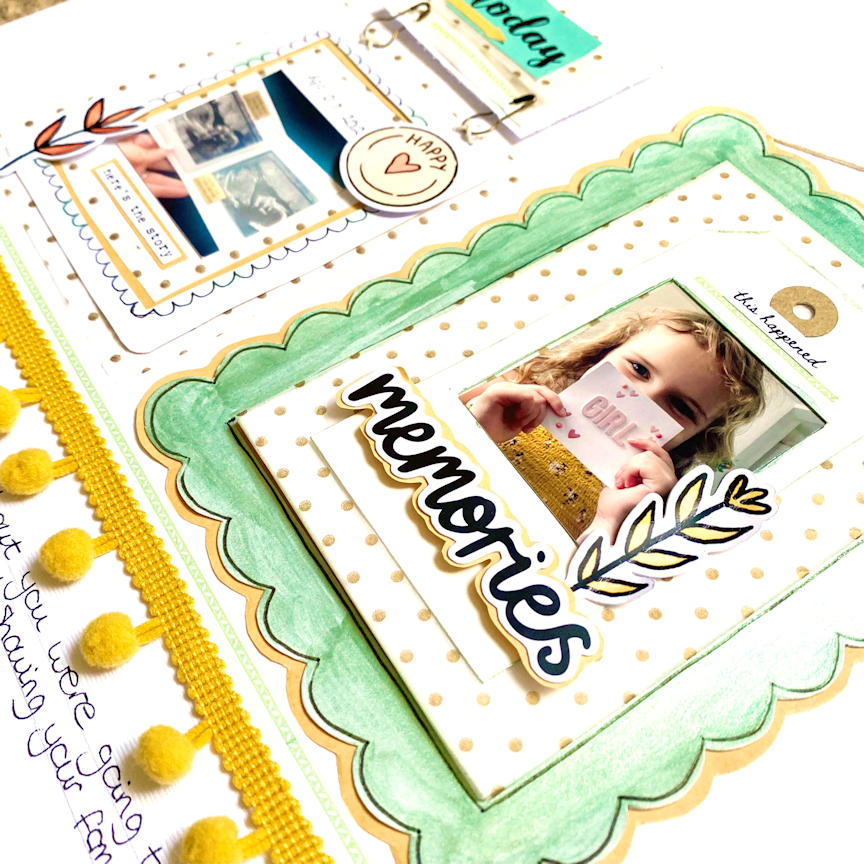 .
So that my picture gallery wasn't 'floating' on the page I used the lovely mustard pom pom trim as a 'shelf' and with a strip of Washi tape running along the top of this. This also created a great place for journaling underneath the pom pom trim. I am chuffed to pieces how this design came together and can't wait to get started on my next project using Good Vibes.
See you soon and happy crafting,