Currently Watching – by Monique
Happy Weekend Lollipop Friends!
The 'Let's Escape' kit is bursting with fun and is so very versatile!  As soon as I opened it, I knew I wanted to document a trip to the cinema with my kiddies during the February half term break. I have a process video if you'd like to see my page come together.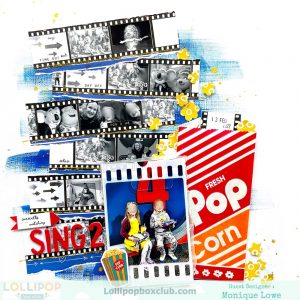 The kit includes lovely, bold patterned papers but one in particular jumped out at me for this layout. I immediately started fussy cutting the film strip patterned paper. I created a vertical column down my page with the strips, and added in torn strips of the blue patterned paper. To add in even more blue, I used some acrylic paint on a dry brush to paint some rough horizontal stripes across my page. Just a hint of this is visible but adds a bit of extra interest and colour to the layout.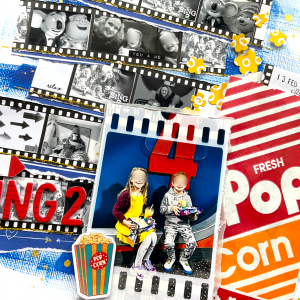 I edited my photo in the Pixlr app (my favourite photo editing app) and included a film strip frame around the pic to match the patterned paper. A layer of vellum behind my photo gave a nice soft border and worked well placed next to the cute popcorn bag from the kit. This little bag added a nice pop of red to the page, which complimented my photo nicely.
At this point I felt my page was looking a bit bare so I printed off a few extra photos from the outing. Along with a few images from the film, these all worked nicely within the film strips. I completed my background strips with some yellow stitching, a few text stickers from the kit and some stencilled arrows using the lovely stencil from Peartree Cutfiles (this months awesome collab).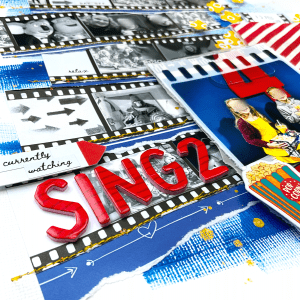 I really wanted to bring in a pop of yellow as my daughters dress in the photo is so prominent. This was the perfect opportunity to add some buttery popcorn to the popcorn bag! I improvised with a few little flower shaped metal dies, which worked perfectly for pieces of popcorn, paired with the yellow paper from the kit.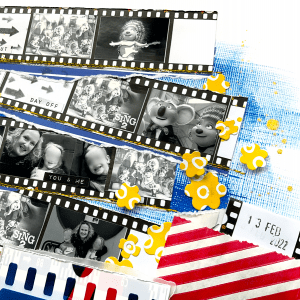 I finished off my page with a bold red title, a little popcorn die cut and a splattering of gold mist. I also used the popcorn bag as a pocket. Using the tag from the kit, I stuck the film details on the front, with space left for journaling on the back. A spare piece of film strip worked well as a little pull tab and the perfect spot to stamp the date. I'll also add in the the cinema tickets when I remember where I put them!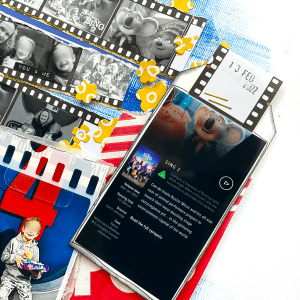 Thank you so much for joining me today! I hope you've found some new inspiration for the fun 'Let's Escape' kit and get some time to be creative this weekend. Wishing you a happy weekend!
Much love,
Monique x