Hi there Lollipop friends
Who doesn't love a notebook and pens?! I can never have enough and I suspect that a lot of you are like me too.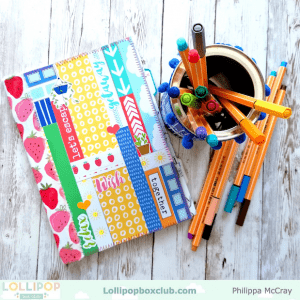 For my second project using the Let's Escape kit I decided to cover an ordinary shop bought notebook (as opposed to making an actual journal from scratch!). The kraft cover was a good weight so I removed it from the insert to make covering it easier. I started by cutting one of the kit papers into strips and as I had some off cuts of the other papers as well as some from older kits I used those too, cutting them to different sizes. Having assembled a nice pile I played around with them until I was happy with the arrangement and stuck them down using Cosmic Shimmer glue. I could just have easily used a Pritt Stick or double sided tape but it was a case of what was to hand!
I varied the widths and lengths of the pieces for variety and once I'd completely covered the kraft cardstock cover I added some of Mrs. Brimbles' stickers from the current kit as well as some from previous kits.
I'd used some old kit paper with strawberries on. I do like to make the most of the strawberry season! I know you can buy them pretty much all year round now but there's nothing quite like the sweetness of a British strawberry I'm sure you'll agree! I used a zig zag stitch on my sewing machine to stitch around the cover. There was no need to do this I just can't resist adding a bit of stitching! Photo below shows back cover.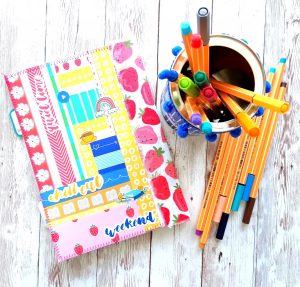 I happened to have some fabric printed with strawberries that matched rather well so having hand sewn the insert back into the cover I used some of the fabric to cover the spine.
I rummaged around in my 'Lollipop' box and I've dug out some tabs, stickers and various papers that I plan to utilise in the notebook which is going to be used to document the time I get to spend with my youngest daughter who is coming home for a holiday in a couple of weeks time.  We haven't seen her for three years so it's a huge deal, the excitement is building and we've got lots of lovely things planned. I certainly won't be doing any crafting whilst she's here but I do want to make sure that I keep a note of how we spend our days, where we go and who we see so that once she's returned to Australia I have a record of the trip and can relive the memories when I do some alternative forms of memory keeping.
I had an empty coffee tin (from a well known German food store) which is a perfect size to use as  a pen pot so I covered that with some paper scraps and had just enough of the blue bobble trim included in the kit to edge the top of the tin. It's a fun edition to the various other pots and mugs that hold my pen and pencil collection!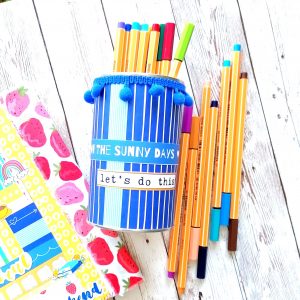 I'm taking a break but I'll be back towards the end of August with another project for you.
Until then, have fun and Happy Crafting!
Love Philippa x