Happy Halloween – Guest Designer!!
Hi and Happy Halloween!!
Every month I get to see so many of your creations using your kits and I LOVE it!!
I can not tell you how happy and honoured it makes me feel. I get emails and messages and included in #lollipopboxclub hashtags so I can see what you've been making. Thank you!!
This month I have a very lovely lady from France called Christine email me. Such a kind and sweet email and I just loved what she created and wanted to share it with you all. So I asked her to tell her own story for me to share with you.
Then it gave me an idea….how fun would it be to do this every month? I'd love to feature one of you each month and showcase your projects. I will give you more details at the end of this post, but first I would love to pass you over to the lovely Christine and her fab Halloween Travellers Notebook.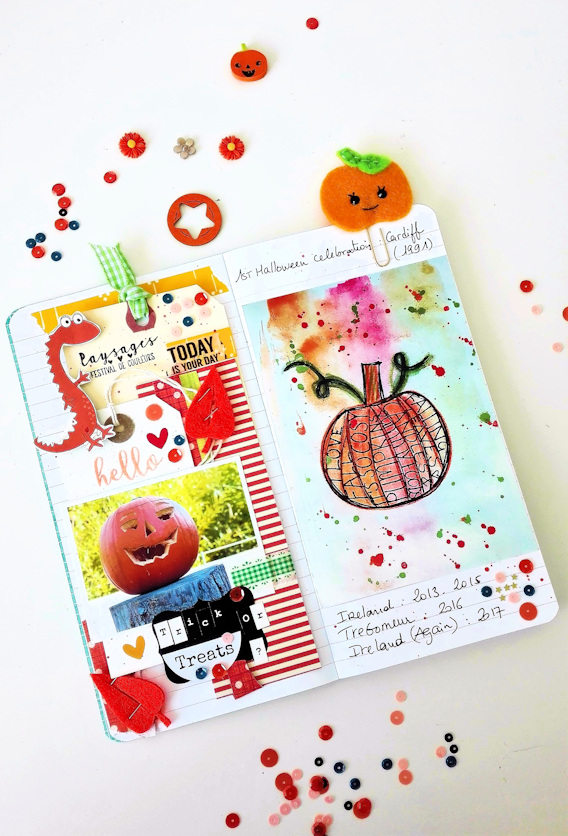 Hi!! Here I am with a page I made with the October Kit.
When you read this post, I'll be on my way to Ireland, ready to celebrate Hallowe'en in one of my favourite countries. That's why I decided to document this on my Traveller's Notebook.

As you probably know, I'm French and Hallowe'en didn't exist in our country a few decades ago. That's why when I came to live in Wales (UK), and when I opened the door to a …..WITCH (!!!!)… My first reaction was to scream and slam the door in the poor little girl face…. To my own defence, I have to tell you I was sleeping when she knocked, and I really thought, emerging from my dreams, that she would cast a spell on me…LOL. That was back in 1991, the poor little girl must be around 35 today, and I guess she still remembers her encounter with a mad French person. Not sure this is very good for our reputation abroad… LOL!
The goodies and embellishments from the October Lollipop Box Club  Kit are the perfect match with my page.
Gradually, Hallowe'en has become a celebration in France, but I have to admit nothing is better than celebrating it in English-Speaking countries where you guys really know what it's all about! So that provides me with a good argument to convince my family to go and visit Ireland on mid-term holidays. This has become a rendez-vous no-one would want to miss.
Wishing you all a Happy & Scary Hallowe'en! Love from France!
Christine xxx
*************************************************************************************
Thank you to Christine for sharing her fun story and stunning Halloween page. I love all those bright colours!!
Christine has amazing projects that you can view on her social media platforms which you can find here.
AND THERE AGAIN: https://www.youtube.com/watch?v=N50MTY_xS5U
*************************************************************************************
If you would also like to be featured on our blog and also on our Facebook and Instagram pages, then I would love to hear from you too. Please email me at:
hello@lollipopboxclub.com
Please use the subject – hello lollipopbox club
And send me your projects. I can't wait to see.
Thank you Christine once again and Happy Halloween to everyone here. Have fun and stay safe.
Lots of love Lisa xxx