Happy Story – Scrapbooking with Lorraine
.
The January Kit Hello Friend is so versatile, the stamps and postmarks reminded me of travelling and writing postcards and the bluebirds reminded me of the cute birds that helped Cinderella get dressed for the day. I knew instantly what I wanted to document using these elements and had the perfect photos waiting to be scrapped!
I fussy gut the stamps from one of the patterned papers and carefully gutted the centres of those that the colours didn't quite work for my layout. Backing the apertures of the gutted stamps was simple using the grid paper, yellow patterned paper and blue paper bag. I also fussy cut the beautiful blue and yellow leaf vines from cute card in the kit, two blue stamps and the blue 'smile' ticket.
.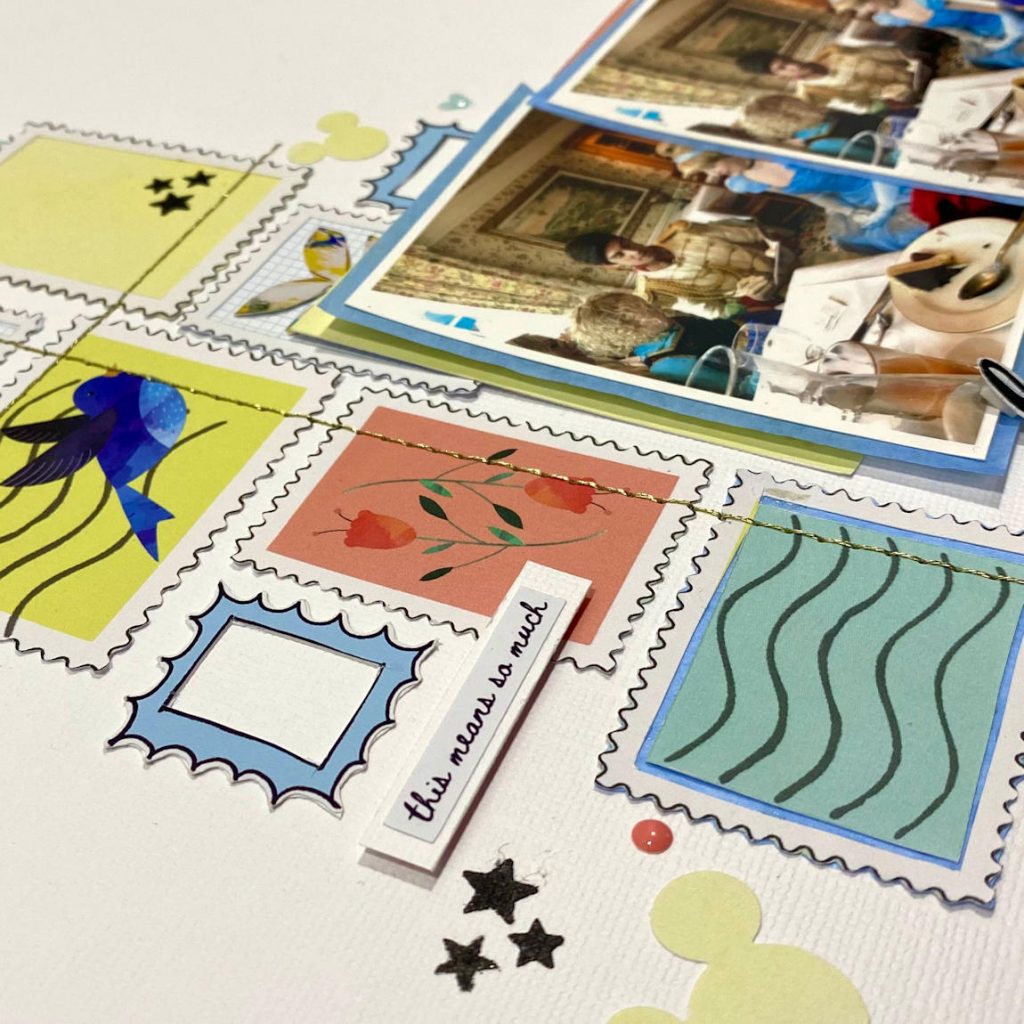 .
Putting the layout together was straight forward, I placed the photos layered onto the blue paper bag mounts and raised on 3D foam before adhering in place to the base cardstock. I tucked a strip of the yellow patterned paper under the photos and a cluster of stamps, fussy cut bluebird and journal strip to the right of these. The remaining stamp elements were added following a format where there was at least one straight line to ensure the finished layout was visually pleasing.
The remaining elements and embellishments were added in key focal points and to create a visual triangle. I had fun using my Mickey Mouse punch to create different sized Mickey heads to add a subtle 'nod' to our trip to Disneyland Paris back in November 2018. Adding a stamped title, journaling and stamped stars in black added a lovely contrast to the light blues and yellows. I finished the layout with machine stitching in two simple lines and a twirl of the same gold thread under the photo cluster. I loved how this added a little sparkle and rich gold colour that replicates Prince Charming's stitching on his costume.
.
.
I hope you have enjoyed reading how my layout came together and look forward to seeing what you are creating with the Hello Friend kit.
Lorraine xxx