Journaling My Hopes & Goals for 2021 – Find Your Happy
.
.
Hello!!
I'm sharing my first journal page of 2021. I decided to document my goals and hopes for the year.
It's always fun to start the year by doing this. It feels a healthy thing to do for your head. Getting it all down on paper.
A fresh positive start to the year. Saying goodbye to the previous year and hello to the new.
.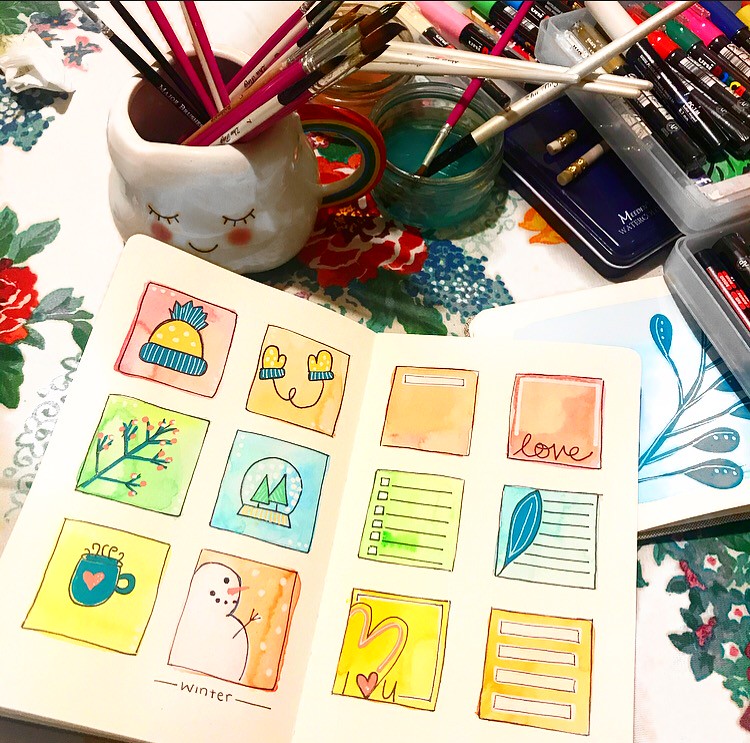 .
I created this artwork and turned them into two pages of downloads for all of my Patrons in January. I thought the mix of images and little journal cards would work really well together.
They can be downloaded by joining me on Patreon here for as little as £2 a month and you also get access to the previous months too (and you can cancel anytime).
.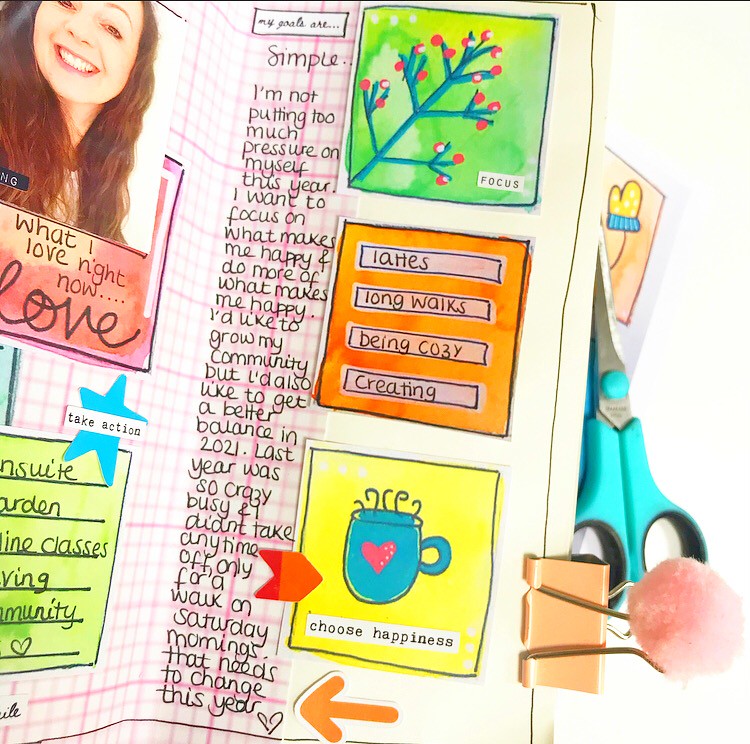 .
This is one of those pages where you don't really need a photo, but I had one that I'd taken a couple of days previous so I decided to add that too.
I cut out some of the pieces of artwork that I'd created and I added a a little journaling on some of the cards. This is great if you aren't one for loads of journaling or you find the thought of writing loads a little off putting. But I allowed some space to journal more in depth. I didn't actually plan what I wanted to journal, I just went for it. Sometimes I find this the best way as it really comes from the heart. It can even take you by surprise sometimes.
.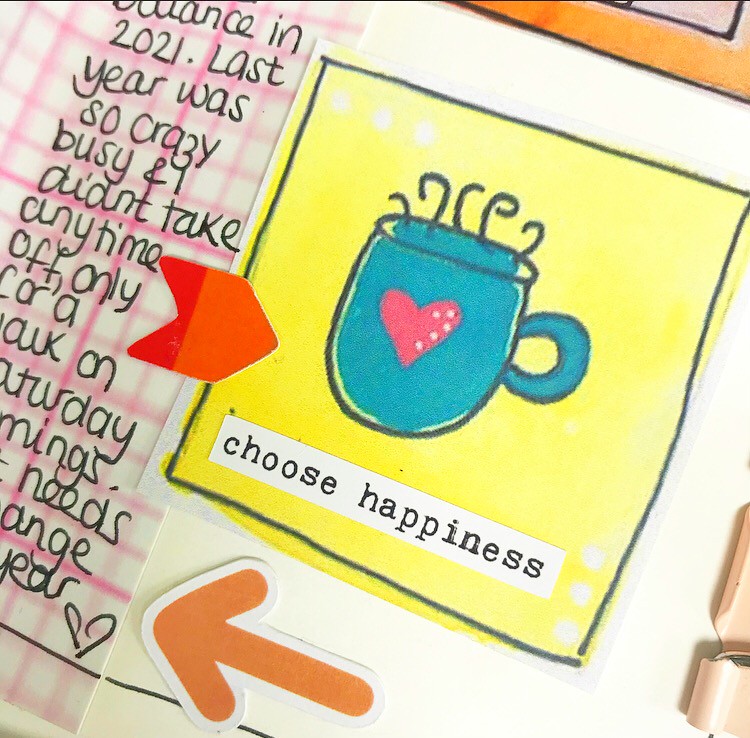 .
My intention when I first started this page was to focus on my 2021 goals and it wasn't until I really started journaling that I realised, that my goal for 2021 is just to be happy. Setting aside huge achievements, big plans etc… I just would like to simplify my life this year and do the little things that make me happiest the most.
I'm not sure I would have even realised that (which I know sounds odd) but had it not been for my 'just go for it' journaling'.
.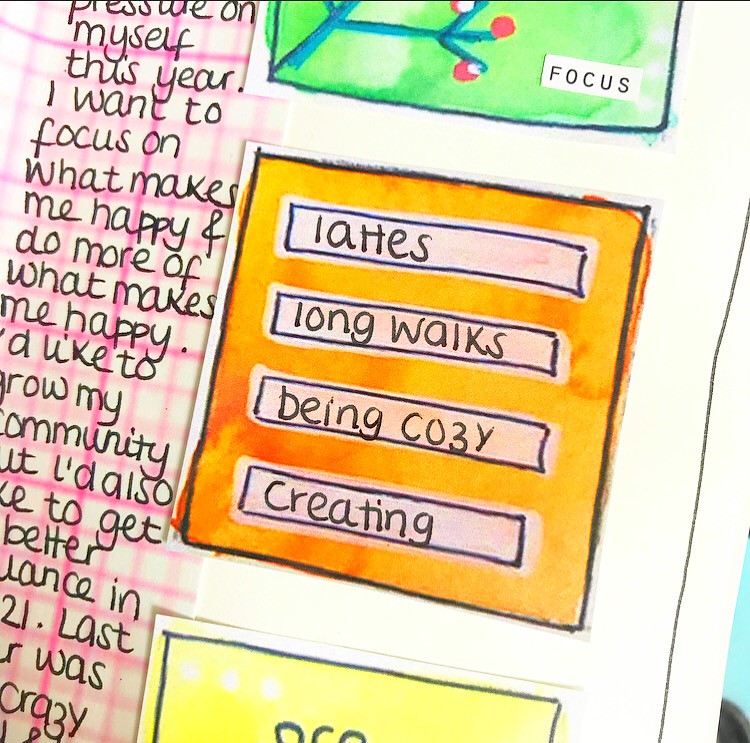 .
It was actually writing down here, what makes me happy which triggered the main journaling. Writing down 4 simple things that make me happy,
My morning latte (I start looking forward to this when I go to bed)

Our mega walk on a Saturday morning with our 2 besties have kept us sane this past year. Spending the morning walking up to 13 miles from home in the middle of nowhere has been one of the best things to come out of 2020 for us. We've found places near home we never knew existed and we've become such close friends with our 2 friends that we've known for about 12 years sharing chats in the school playground years ago and standing on the side of the footy pitch, to this year feeling like they are best friends and we are now planning trips together in the future as the 4 of us have such a passion for travel.

Being cozy. Making time to enjoy being home. Reading and watching movies with Ade and also doing some DIY jobs around the house to make it feel cozier.

Creating. It's my passion. It makes me go goose bumpy thinking about it. My studio is my happy place (aside from Disney of course!) It changed my life almost 20 years ago in ways you would never believe and I fall more and more in love with it each year.
.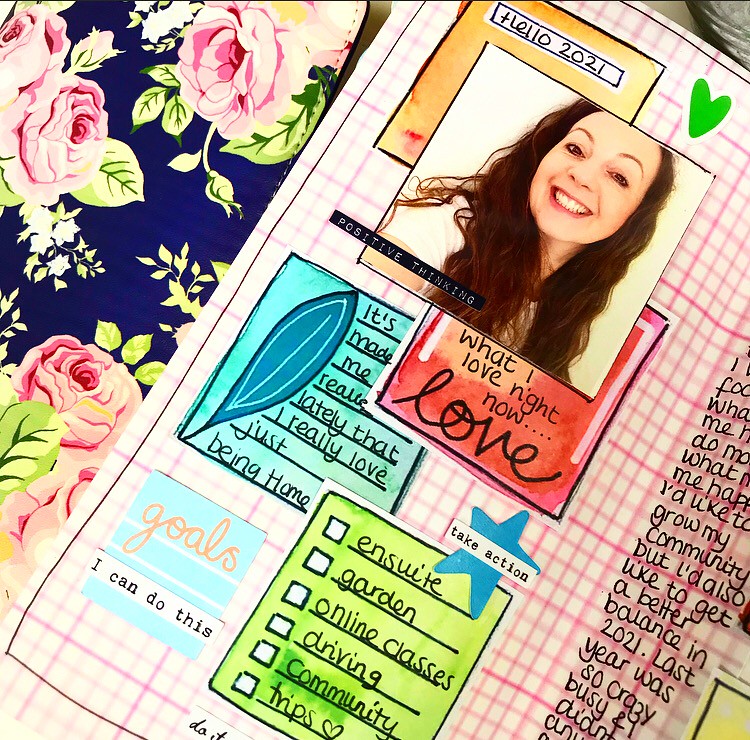 .
I encourage you to do the same. Sit down with a journal, notebook, scrapbooking page. It doesn't matter what you use, but document what you would like from 2021 and keep it simple.
Really focus on the little things that make you happy and how can you bring them into your daily life more this year?
.
Would you like to read more books? Does this mean going to bed 20 mins earlier perhaps?

Would you like to eat cleaner? Could this come from meal planning?

Would you like to get outside more? Walking? Cycling? Geocaching? Encouraging your family to join you.

Do you also want to find more time to create/journal? Can you add it to your daily schedule? Could you get up a little earlier, have a cuppa and start your day journaling? Can your create whilst watching tv in the evening with your partner? (that's when I painted the artwork for my downloads)  Can you get your kids creating at the table with you, allowing a little time for you to create too? I got both of my kids scrapbooking when they were little and we all scrapbooked together.
.
I hope you find your happy this year and I hope you find more ways to make time for it.
Don't forget, you can join the free chat group here where we all help and inspire one another daily with fun ideas and projects.
I can't wait to see your pages. Have fun creating them.
.
Lots of love
Lisa xx