Hey lovely Lollipops!
I am back with a journal page using the 'Here comes the Sun' kit – and I know I say this every time but this kit has to be my favourite!  I adore the colours, they are so bright and bold and really good for spring time.  Its a perfect kit for journalling and I really enjoyed using it on this layout.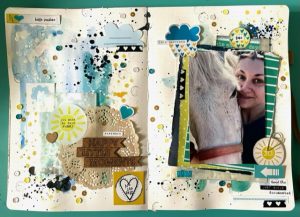 I journal in a B5 notebook – I think its supposed to be a bullet journal – but it has super thick paper which makes it really good for journalling on.  I use lots of mixed media and started this page adding some watercolour paint on in different blues and greens. Once this was dry I added splatters of black and white inks.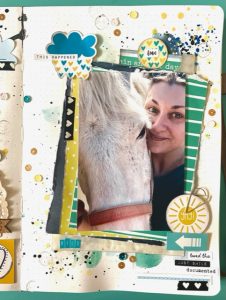 I backed my picture using papers from the kit, distressing and inking the edges. I wanted to add some darker navy in too so found some paper from my stash and added that in as a layer. Once this was all arranged I attached to the page and then picked out some of the embellishments from the die-cuts and stickers and used them to frame the picture.  I also attached one of the paper-clips. I really love these shaped clips – they are super fun. I also have a vellum pocket attached to the paper cluster and have added some hidden journalling behind the picture.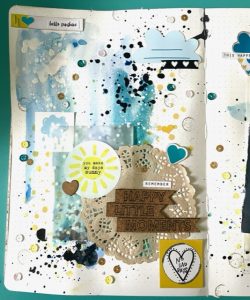 On the other page I created another focal point using the cork words. These are a really fun embellishment and I love how Lisa collaborates with different small businesses to give us a little something new to try out each month.  I backed these with one of the  Kraft doilies – I need more of these! I haven't ever seen them before and they are great! And then finished embellishing with more die-cuts and stickers.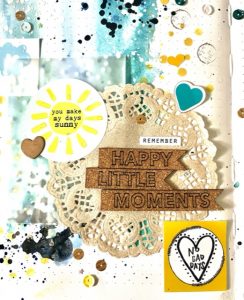 I decided that the page needed a little more sparkle and added some sequins from my stash and a little background stamping and then decided that I was done!
Journalling is a lot of fun and I find it a much less intimidating way to memory keep. If you haven't given it a go yet – why not try with this months kit?
See you all again in a few weeks
Carrie xo