Mixed Media Scrapbooking with Carrie
Dear Lollipops,
Its been a while since I stopped by to show you what I have been up to, I haven't been scrapping much for many reasons including a new job and a house move!  Its been go-go-go here for me and now that I am settled in my new home, I was desperate to put some time aside to find my scrapping mojo and have a play with the 'Hello Spring' kit.   Given everything that has happened in the world over the last 2 weeks – I think life is has become really quite stressful for everyone, I know that I am struggling with social distancing and the anxiety around not knowing when life will go back to normal, so to help me feel better I have decided to throw myself back into scrapbooking as a way to distract myself and pass all this extra time on my hands!
I absolutely adore the 'Hello Spring' kit.  Its full of bright and sunshiny colours and lots of yummy papers and embellishments.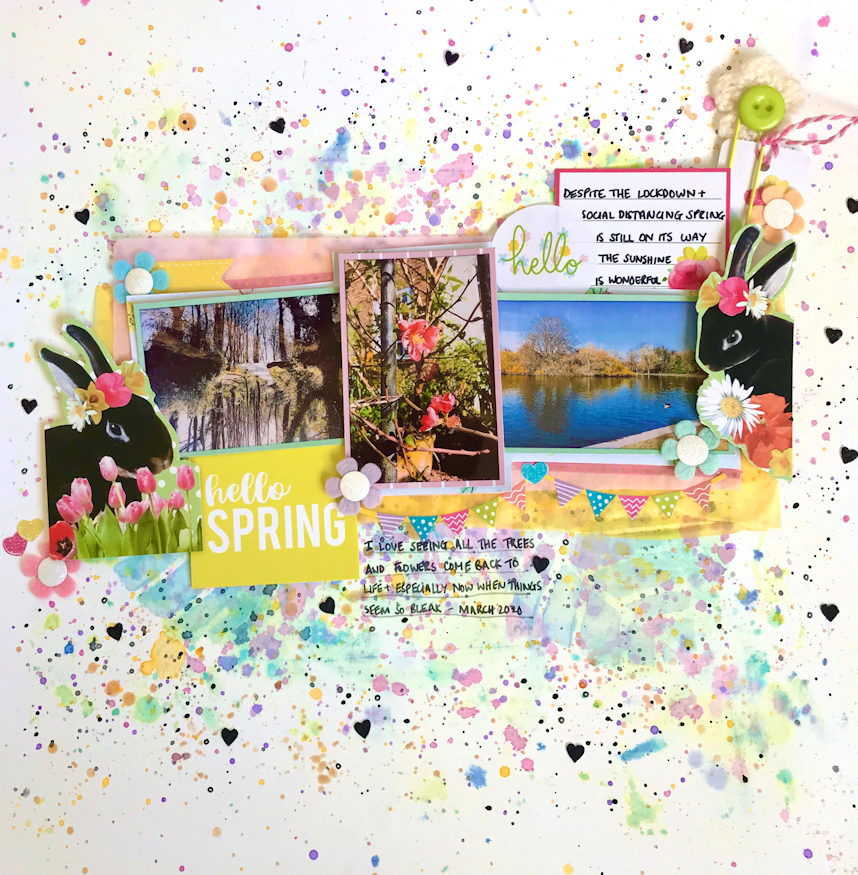 I started by prepping my 12×12 cardstock with gesso, which makes it easier to add mixed media to the page.  Gesso acts as a barrier between the cardstock and the paint, meaning that you can mix the colours and move the paint around the page before it dries.  This is really useful when playing with mixed media. I used Distress Oxide and Dylusions sprays in pastel shades to make this really colourful background.  Its super easy to do – you just spray the cardstock with water (once the gesso is dry) and then splatter the sprays onto the page.  I use a paint brush for this.  If you add extra water on top it helps the colours to blend.
While this was drying I backed my pictures using papers and tissue paper from the kit.  The tissue paper was part of the packaging and I love using every bit of the kit on my pages.  Lisa always makes sure that you can use almost everything that comes in the kit – I have even used the box that it comes in on a layout before!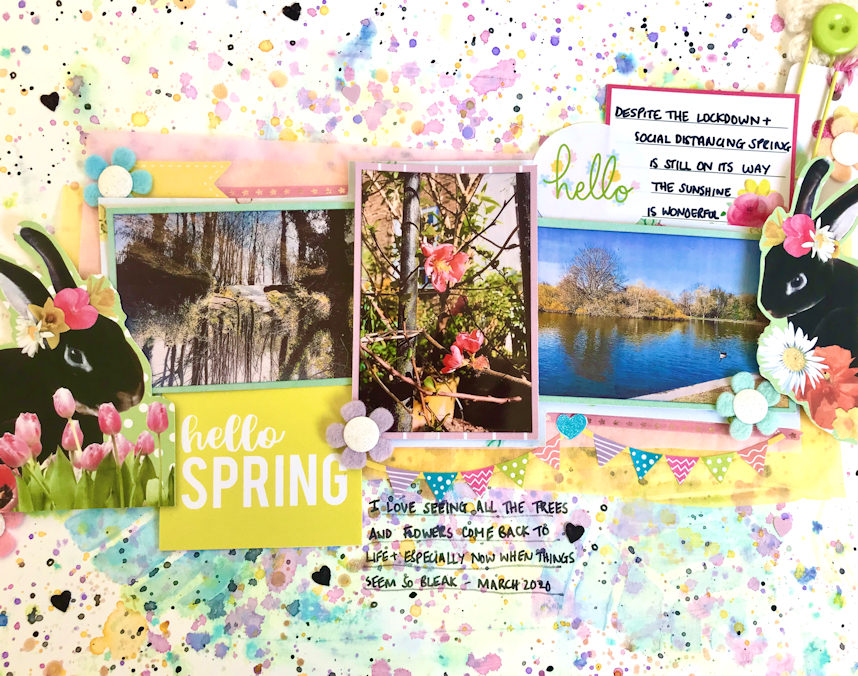 I fussy cut the gorgeous rabbits from the bookmark that came in the kit – these are super cute and as I read most of my books on the kindle I didn't feel too bad cutting them up and the rabbits found a new home on my layout instead.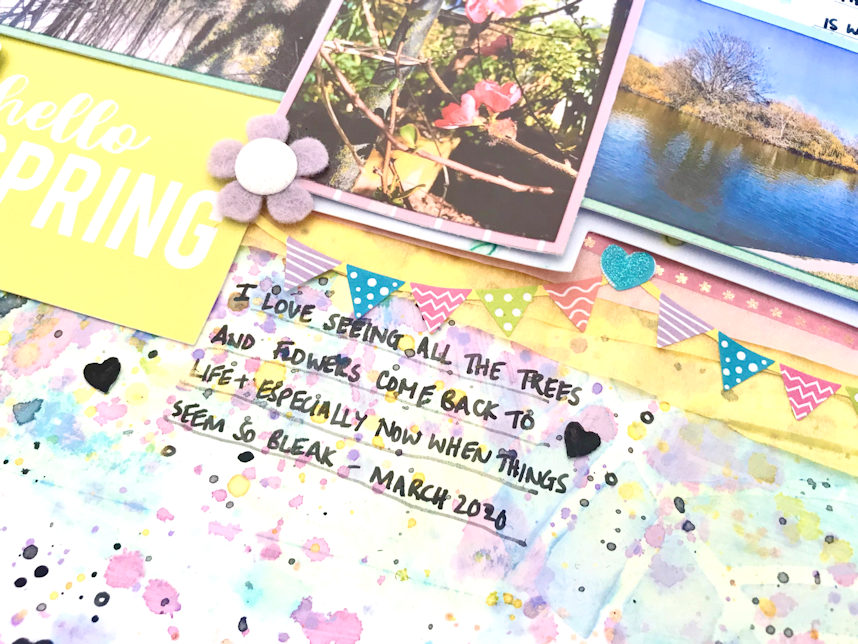 One of my favourite bits in this kit are the little felt flowers.  After using the cut apart postcard to add some more layers around my picture, I added the little felt flowers around my page.  I also used one of the leaf tags, the 'Hello' sticker and some of the banners and hearts from the sticker book to embellish my page.  I finished by popping the gorgeous crocheted flower clip just above my journaling. This clip is just so pretty.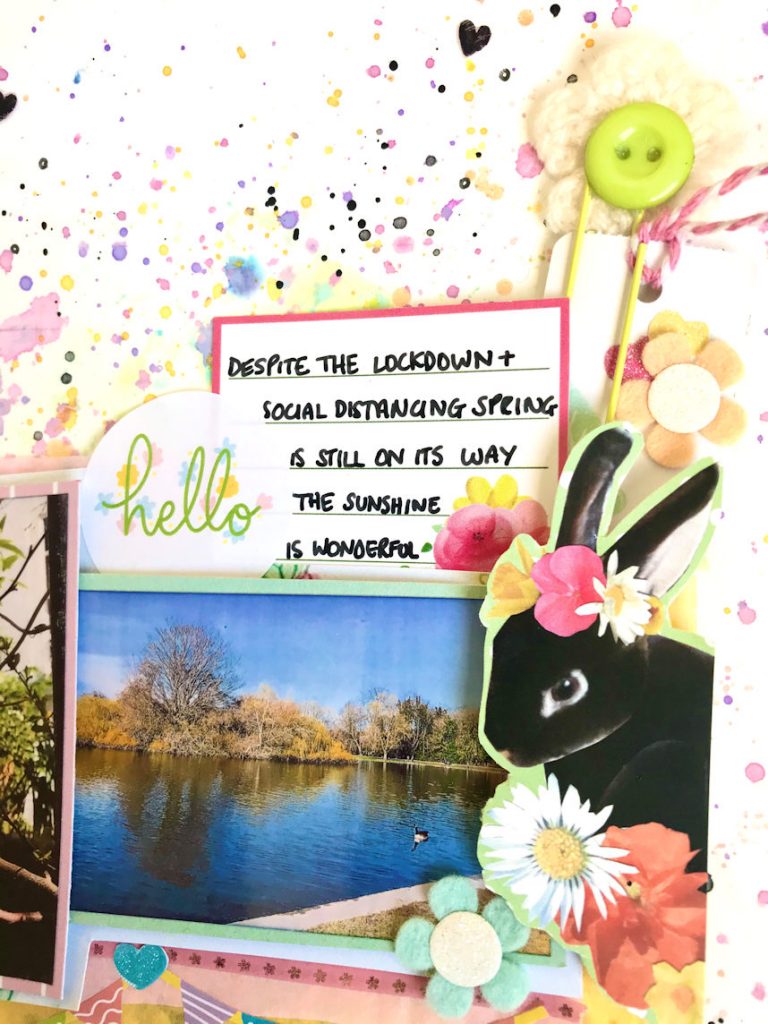 I was really pleased with how the page was looking but felt that the layout needed some extra black elements so I cut some tiny hearts from a scrap of paper and scattered these around the kit and then coloured these in and added doodles and ink splatters as well.
I really hope that you like my layout. I had such a great time making it.  Please all keep safe during this difficult time – why not spend some scrapbooking – it really does take your mind off everything else in the world!
Hugs
Carrie xo