Hello lovely Lollipop friends!!
How is everyone doing? Wasn't the weather lovely this weekend? So very bright and cheerful – almost as bright and cheerful as this kit!   I really do say it every month, but this months 'Picnic in the Park' kit really is my favourite kit this year! Its so very bright and colourful and the colours are some of my favourites too!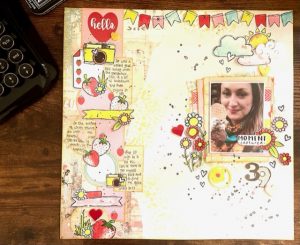 I wanted to focus on a couple of elements from the kit for this page – the vintage style notebook paper and the wonderful cut apart sheets from Daisy of My Green Cow.  I don't know about you all, but I love the trend for vintage style supplies that seems to have become really big at the minute. I adore vintage style things, but I also love bright and bold coloured things too and I thought that I would have a play with this kit and see if I can get both styles to work together on a page.
Its always a favourite month of mine when Lisa collaborates with Daisy as I so love her cut apart sheets and style of illustration, its bold and bright, modern and fun.  I started off this page by prepping my card-stock with gesso, adding some pink vintage paper from my stash, some stencilling and of course my usual splatters. While that was drying, I fussy cut all the elements from the cut apart sheet. Using a circle and rectangle punch from my stash, I punched out shapes from the lovely strawberry and vintage style notebook papers from the kit and used them and some of the die cuts to create a space to journal along the left hand side of my page.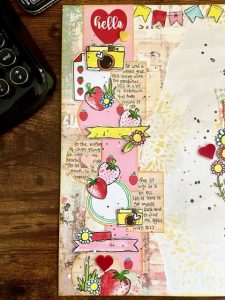 I then used more papers to create a cluster behind my picture, including that super cool patterned vellum. I am always impressed with the variety of things that Lisa manages to find for the kits – this paper is gorgeous and so unusual too.  Once I was happy with the positioning of the picture, I added in all the fussy cut illustrations from Daisy's cut apart sheet and also added some perspectives from Bramble Fox.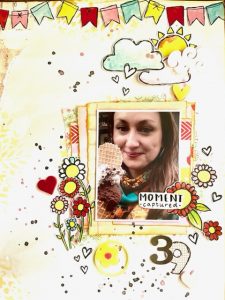 It was a real joy to create this page – it came together so easily and I really love the way that the vintage style pages fit in with the more modern illustrations, don't be scared to try mixing both together.  I love both styles of supplies and they really can work well together.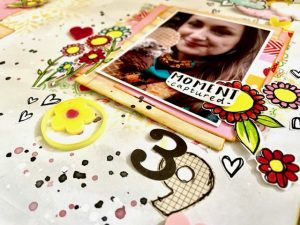 Speak soon in a couple of weeks and take care!
Carrie xo