Price Changes Coming from 17th March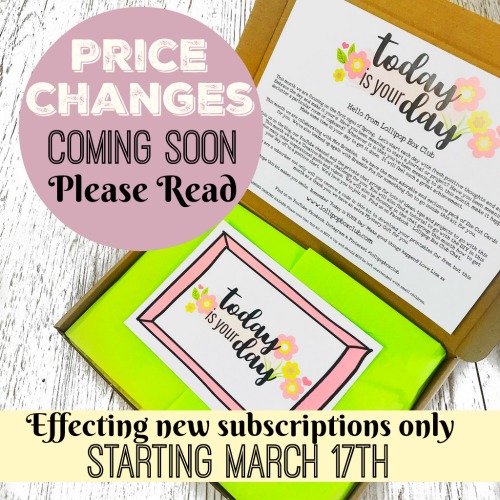 Hi!!  Firstly, thank you to everyone who has been supporting me and my Lollipop adventure. We turn 3 in May. I  remember when I started a friend asked if I would run out of ideas. I'm so happy to say that my head is always bursting with them and my kits are planned with themes, names and colour combos right through until Spring 2019. It's one part that I absolutely love.
So now on the the part that I don't love so much…
Despite everything around me increasing in price over the past 3 years (almost 3 years). I'm talking….postage, ink, paper and suppliers in general, I have never in this time passed this on to my lovely customers. I have also in this time seriously improved the content of the kits. We now are almost fully exclusive with our own designed papers each month, printables, stamps, stencils, stickers etc… and again this increase has never been passed on.
I made the announcement back in January that the one off kits would be increasing from £17 to £18 as off the 1st February and that the new subscriptions would also be increasing by £1 as of the April Kits. The subscriptions for this kit open on March 17th.  I wanted to give everyone plenty of warning and I've mentioned this in various blog posts since that first announcement. This price does include UK delivery.
I am a strong believer in looking after my customers, many of which thanks to our lovely chat group here, feel like friends now. I will NOT be increasing the cost of the subscriptions for all remaining subscribers. If you subscribe already, your prices will remain the same. But if you cancel and later rejoin, please be aware that this will be at the new price. And as March is my birthday month, all subscribers are also receiving an extra mystery gift from me in their March Kits worth £2.95 for FREE!! So it's really worth subscribing this month if you've been sitting on the fence!
I do hope you understand and I do hope that you feel that you get good value each month in your boxes. It's always been so important to me that you not only receive your kits but for that price you also receive a month full of support and inspiration to go with that kit. I spend so many hours working on blog posts and YouTube videos giving you ideas, tips and inspiration. I really hope that you feel that you get a month's worth of fun and not just the moment when you open up your box. To me, that's just the start of when the fun begins.
If you haven't joined our chat group, please do so here. It's private and full of lovely friendly people who subscribe to our boxes and also those that just love to craft, plan & organise. Everyone is welcome. Kit or no kit. Plus this is my place to connect with you and it's also where I share addons, offers and sale kits first. It's become my happy place in the mornings now where I start my day with my coffee and see what everyone has been creating and chatting about. I feel so lucky to have such a lovely little community.
Thank you so much for your support and understanding. If you've been thinking about signing up, please do so before the next kit to receive it at the old price. Plus remember this month, you'll also get that extra gift.
Lots of love
Lisa xx