Scrap Therapy Mini Layout – by Emma, Project Sparkle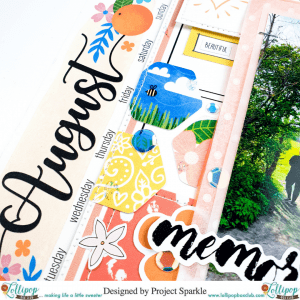 Hello, me again!  This time I am here with something a little different. A while ago I took part in a YouTube hop organised by Lisa to share our top journaling tips, you can find it here. Since creating that miniature layout and watching a bunch of Suse Fish, I have been hooked on making these small layouts and found that it is the perfect version of scrap therapy for me. Putting together a pretty page just for the fun of it allows me to really play with all the papers and pretty supplies from the kit in such a carefree way.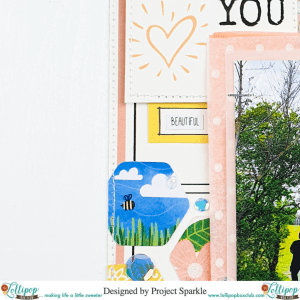 This month I have used the Orange Blossom kit to put together a page showcasing a cute photo I took during the first spell of sunshine in the UK. I used the weekly planner page as my background, cutting and placing square/rectangle pieces over the page to cover the text, but still keeping the page title visible, then adding stitching to most of the squares/rectangles and popping some of them up on foam tape. Next, I backed my photograph with the pretty tissue paper from the kit packaging to make it stand out and then began adding all the pretty decorative touches.

Adding all the little extras is by far my favourite part! I placed all of the hexagon die-cut pieces, one of the gorgeous script word stickers, sequins, and a bunch of the Mrs. Brimbles stickers around the page, tucking them into empty spots, between layers, and around the photograph.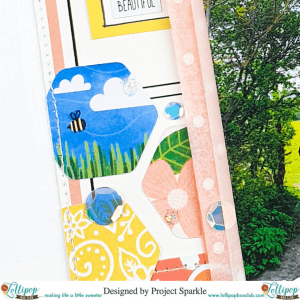 For the final touches, I used my sewing machine for a stitched border, added some texture to the page edges by folding and tearing them in some spots, and then added a scrap of paper peeking out from behind the background. A few sequins, glitter glue dots, and tiny attacher staples completed the page.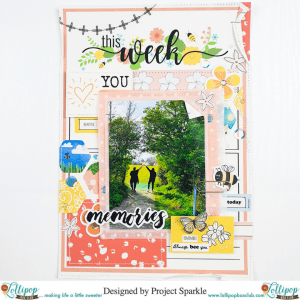 I have the full process up on my YouTube, you can find the video here – Scrap Therapy Mini Layout, so grab your kit and come craft with me! It is so freeing to make something just for fun, why not give it a go? Make sure to tag me (Project Sparkle) and the Lollipop Box Club, we can't wait to see what you create! I hope you have enjoyed crafting with me, see you again soon.
Emma, x