Hi there Lollipop friends!
Today I'm sharing a 12 x 12 scrapbook layout with you. I loved the dandelion paper in the Time to Shine kit and it became the starting point and inspiration for my layout.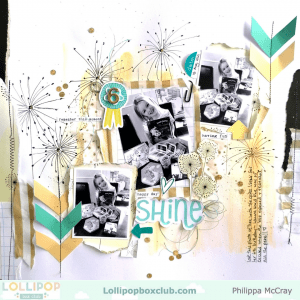 I started by taking a piece of 12×12 white cardstock and laying down a light watercolour wash in pale shades of yellow. I used a ruler to draw some straight lines using a Uniball Fine liner pen (no.3) and I topped each of them with a sort of dandelion clock sunburst! I'd got 3 photographs of the birthday girl which I'd printed in black and white, one slightly bigger than the other two and I mounted them using the dandelion paper, graph paper from the kit and torn paper bag. I played around with the arrangement of the photos but knew I needed to create interest at the sides of the layout. I used some black card from my stash along with the other papers and ran a line of black machine stitching through them to secure. I wanted to introduce the turquoise colour from the ephemera pieces so cut the turquoise and yellow chevrons from the kit paper and positioned them in the top right and bottom left hand corners, again using machine stitching to secure.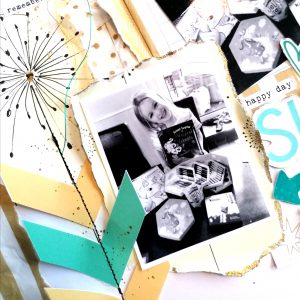 Happy with the arrangement I stuck down my photos making sure I could tuck in bits and pieces of ephemera. I was able to adapt the little rosette with the addition of a gold 6!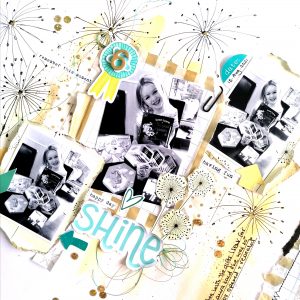 I fussy cut three of the dandelions and tore around the heads, popped one of the black paper clips to the top of my main photo, added the word 'Shine' and of course I had to add a few gold sequins and a cluster of threads! Just for a change I added my journalling vertically.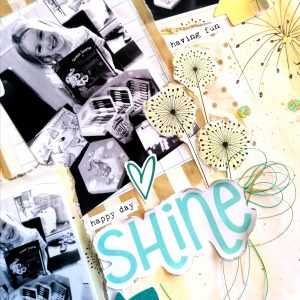 I'm pleased with how it turned out and hope I've inspired you to create your own painterly background whether it's for a scrapbook layout or a journal spread.
Until next time, have fun! I love seeing all the posts on the FB chat group showing how you use your kit.
Love Philippa x