Hi Everyone,
I'm sharing a 12×12 layout with you today using this months Citrus Twist.  You can still buy one off kits here.
I love the orange and lemony vibes in this months kit and found the perfect photo to go with the 'Good Vibe Tribe' from the cut apart postcard.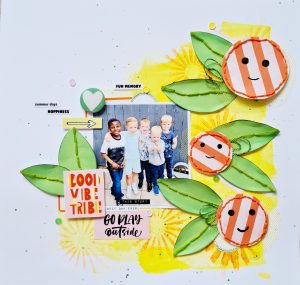 I used a couple of the papers to roughly – and I mean really roughly! cut out some leaf and orange shapes.  I've added a bit more texture to them by doing a bit of hand stitching with embroidery thread along the leaves and around the edge of the oranges.  To add a bit more depth to the leaves I've used a blender and some green ink to add a bit of darker shade along the edges.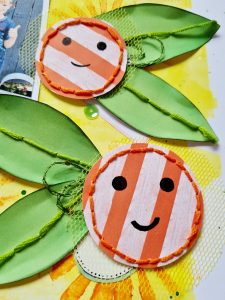 I created a bit of colour on the background paper with some yellow acrylic paint then used the sunburst stencil to sponge some orange paint through and finished off with a few green splatters.  You can get the larger sunburst stencil here and paints, butters and sprays here to help create your backgrounds.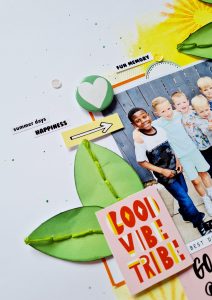 I put some adhesive foam on the back of the oranges to lift them slightly and cut some circles of the tulle to pop behind them along with a little bit of the sequined thread just to add a bit more detail to them.  I've added a mixture of the cut apart postcard and stickers to create lots of little bits around my photo leaving some space for journaling under the 'Go Play Outside'.  I finished off with a few matching coloured sequins and drew some faces on the oranges!
What do you like to use when making a mixed media type background?
Thank
Vicki