Hi!! Happy Monday to you!!
It has been such a busy week for me so I thought I'd have a little catch up with you today and share and show with you what I've been up to.
I've really got in to Spring Cleaning and decluttering. I'm tackling kitchen cupboards, wardrobes etc… and now my studio.
After a really busy few days, there were three 5.30am starts just to try and catch up with things, Ade (my hubby) and I went to Ikea on Friday. The plan to reorganise my studio.
Lollipop Box Club has really taken over our lives. I have other businesses, but this has become the main one now and the studio just doesn't function quite so well for me as it should. Time for a change!!
After many chats about storage and my work needs, we set off to Ikea with a plan and a large list.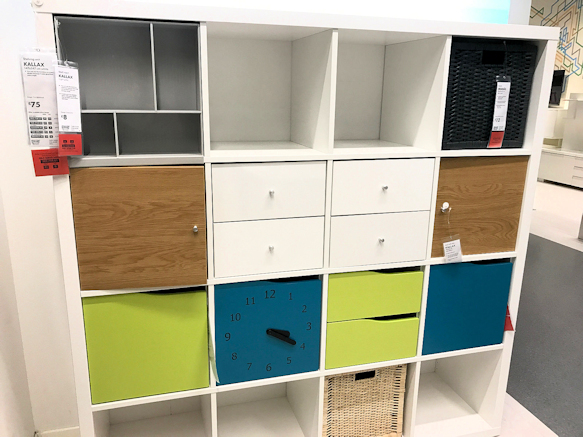 I was looking at things like this.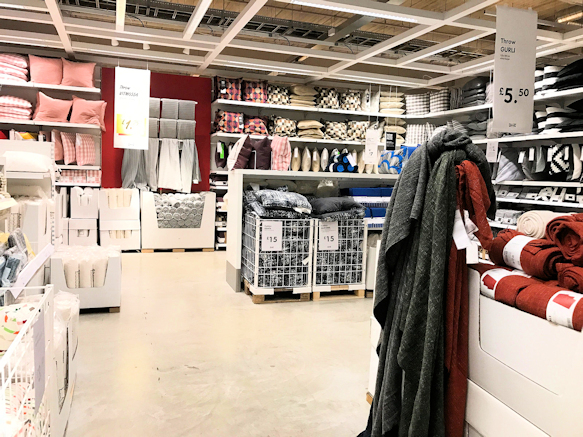 And enjoyed lots of other things too….hubby decided we need a new kitchen, we replanned the kids bedrooms and his office too….it's so easy to get sidetracked there isn't it?! We did pretty well though and stuck pretty much to the list. I think the only extra we came back with was a runner for the hall way. So not bad going!

It was almost time for the kids to get home from school when we got back, so the boys did this…. (don't be fooled in to thinking what a perfect family and a well behaved teen to come and help….he was forced to come off the playstation and it wasn't a pretty sight!!!)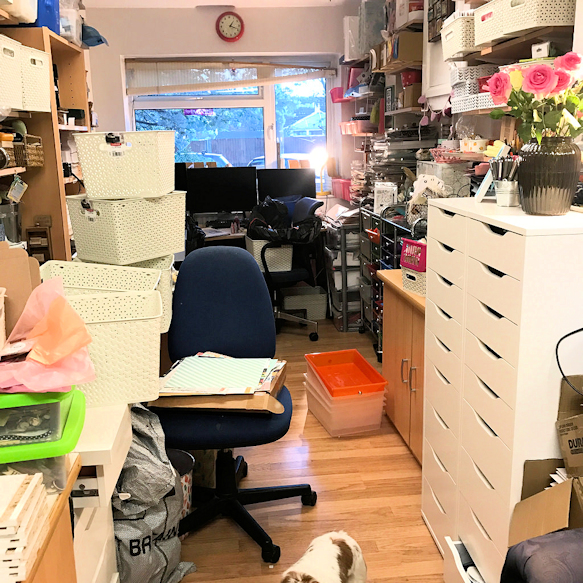 And I did this!!
I stripped the place. And it's all been vlogged so you can see the process. The metal drawers at the end were emptied, cleaned and yesterday taken along with lots of bags of papers and crafts to the kids old pre school. Despite them now being 15 & 17yrs, we still keep in contact. It was lovely to pop in yesterday with the delivery and see the place again. So many happy memories.
So I had the task of emptying, purging and cleaning.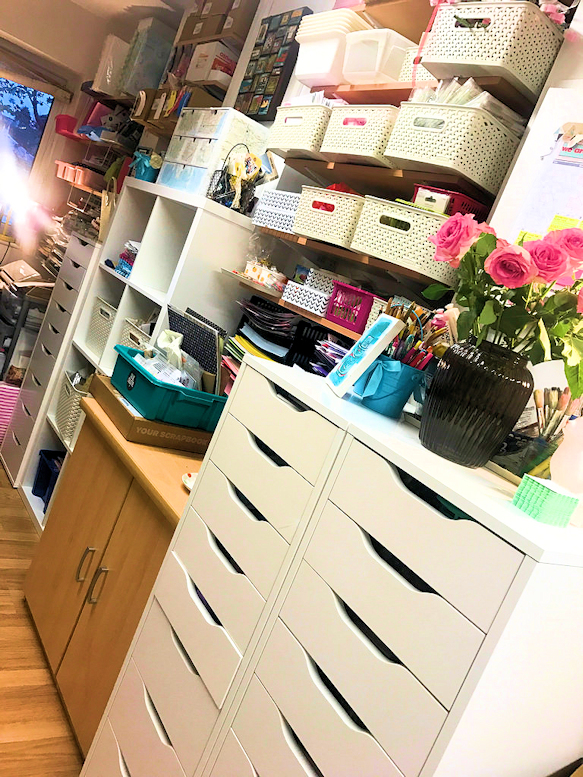 Now Sunday evening it looks like this.
I thought I'd give you a little tour of my studio.
The area up on the right on the shelves is where I keep everything for the current kit that's being worked on.
The cupboard below I emptied recently and it's now just tissue paper. I'm looking to replace that with a white cupboard, but I'm struggling to find something so deep to match.
I want to get some doors and baskets for the new expedit. I just need to see how I want to store things first so I know what I need.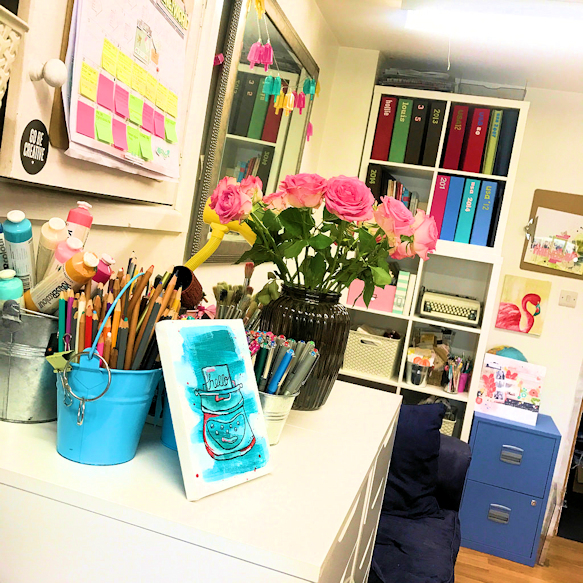 Here's the sofa area up near the door. I'm going to be changing the sofa in the next few weeks too. It was given to us when we moved in to the house, 18yrs ago….I think it's time for a change ; )
I finally have proper storage for all my scrapbooks. I say all. I also have 8 on the bottoms shelves, several under my desk and I put some really old ones up in the loft this week. That's 13 years worth of scrapbooking!! And I have aload on the top there to file.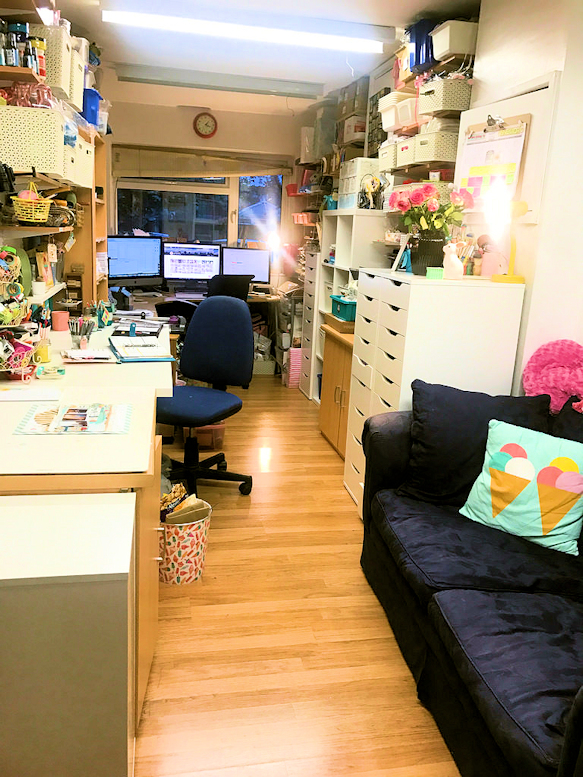 It's looking so much better.
We have a new wooden blind to match the rest in the house that I think hubby only bought…6 or 7 years ago….I think I've been patient enough now : )
I have a new white cupboard here on the left. I will be turning this in to my packing cupboard soon. I need to clear out the next big cupboard next to it.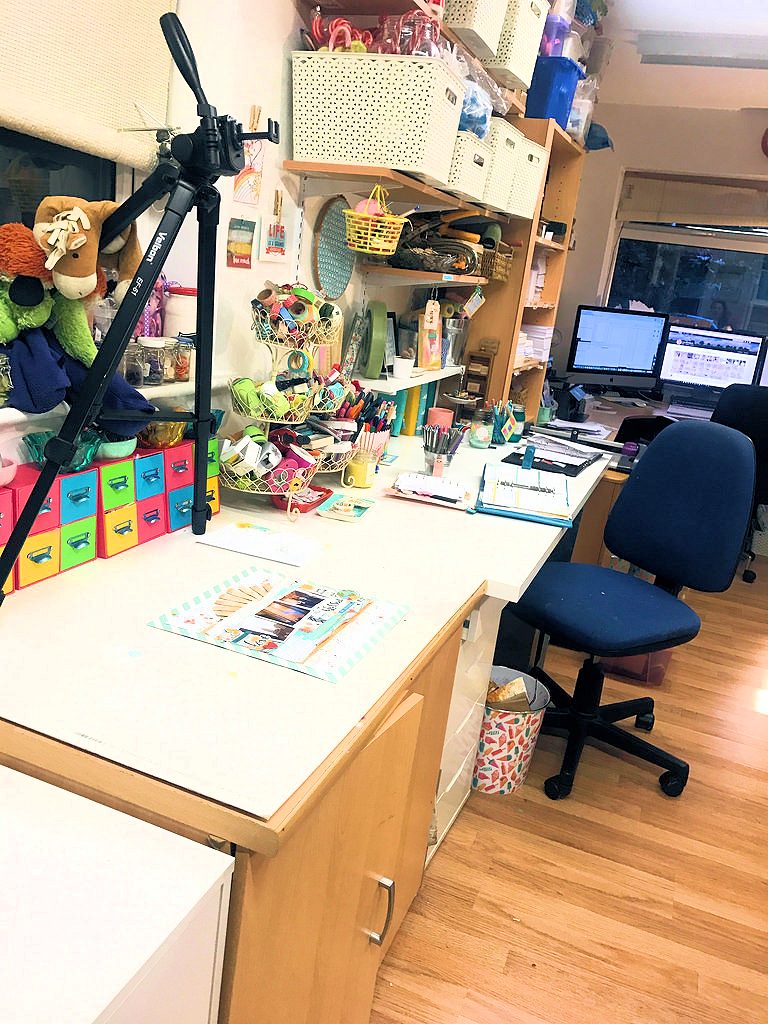 So this is how things look right now on this Sunday evening. We plan to change this wooden cupboard too. It's the same as the other cupboard that we want to change, but we have decided on another desk today.
I've just been working on this scrapbooking project for another company this afternoon and have filmed a process video ready for Thursday.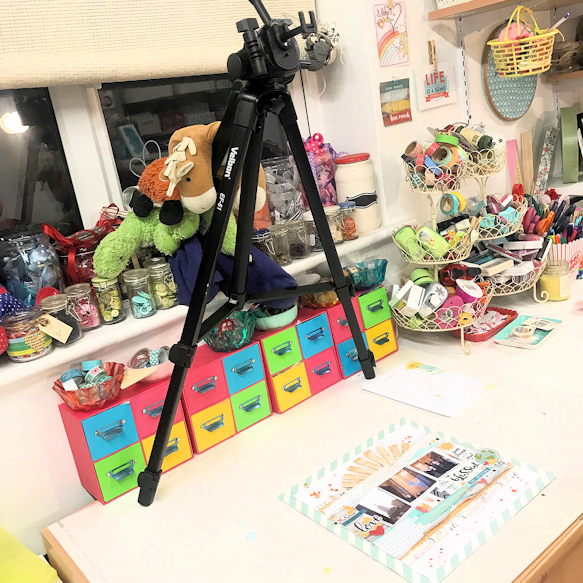 You can see my very technical set up how I film my videos. Dinosaurs, Eve my pony, the fox….all those heavy hotties hold my tripod in place : )   My little helpers!!
This is also where I stand and create/ scrapbook. I've never been able to sit and create for some reason. Even when I go to crops, I stand.
 
And this is my planning/guest desk. I've got my planners out right now planning the week ahead. I have my large weekly planner that sits on my big desk under the window where I work. I have my smaller pink personal Websters Pages planner as my yearly planner and the black planner is currently my Disney planner. I set myself holiday goals each week. This weeks it's to check to see if Hollie is covered under our family travel insurance as she's 18 just before we go and I need to scan and photograph everything. Sounds excessive, but when we got to Universal last time I was so pleased I'd done this as despite being so so organised….I forgot our park passes and didn't realise until we got to the park gates!! I felt sick! But thankfully everything was photographed and they reissued our tickets. Phew!
So that's that! Lots going on right now, but all good stuff! I thought you might enjoy a little behind the scenes nose. I hope you did!
I have some fun videos planned in the next few weeks and I'm really enjoying all the cleaning and purging. It feels so good.
I wish you a wonderful week whatever you are up to.
Join me tomorrow. I have a Forest Friends giveaway.
Hugs xxx