Easy Entertaining with an Easy Chocolate Orange Cake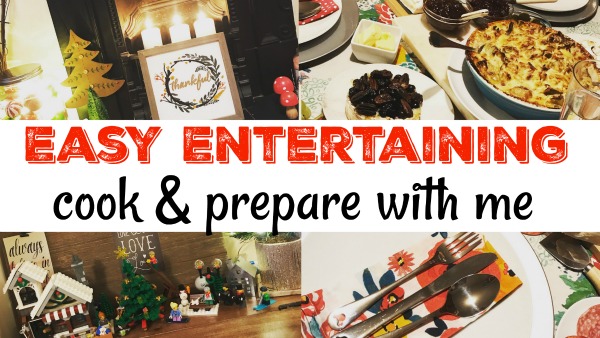 Hi and Happy Monday to you!!
I have an easy entertaining video for you today here. 
We'd invites friends over but I didn't have hours and hours to be preparing and cooking food as I had so much work on.
I did want to share a couple of yummy recipes with you today that I make in the video.
The first is the chocolate orange cake:
Here's the ingredients for the quickest chocolate cake.
1 cup plain flour
1 cup sugar
1/2 cup cocoa powder
1/2 tsp bicarb of soda
1/4 tsp baking powder
1/4 tsp salt
3/4 cup milk
1 tsp vanilla
1 egg
Best bit….throw it all in a bowl and mix well.
For the organgey bit just just grate and add 1 Orange zest and juice in to the mixture.
Pour into a greased cake tin and bake on 180c for about 30 mins.
Make sure it's firm to touch and is coming away from the edges of the tin and you know it's ready.
Melt a chocolate orange, add a little cream and stir. Once the cake has been removed from the tin and is cool, pour over the chocolate orange.
Yummy!!
Here is the amazing Artichoke Cheese Dip.
I do make some changes.
I use just 2 tins of artichokes.
I use Gruyere cheese and a strong cheddar to replace the recipe cheeses.
And the Camembert…. slit the top, pile on blueberries, pecans and drizzle maple syrup and bake for 20 mins.
Amazing!!!
I really hope that you enjoy these.
Don't forget to watch the video here.
Have a great week. Lisa x