Glastonhomebury! TN Spread by Philippa 
I'll confess at the outset, I am not a fan of Glastonbury and you wouldn't want me in your quiz team if I had to answer any questions on music! However, my daughters and husband are huge fans and leapt at the chance of a Glastonhomebury organised by a friend for the second year running!
The June Bucket List kit was perfect for documenting the event in my TN with its tents, signposts, sequins and fun papers!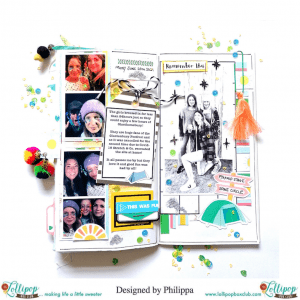 I knew I wanted to use the black & white photo of my daughter and friends on one side so to add a bit of colour I cut the striped paper into strips to create a border on two sides. I fussy cut the black stars from the collage sheet designed by mygreencow exclusively for Lollipop Box Club and stuck them on to my photo along with some sequins from the kit to add to the festival vibe!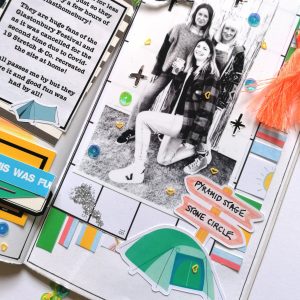 The tent and signpost die cuts were great and I couldn't resist adding Pyramid Stage and Stone Circle!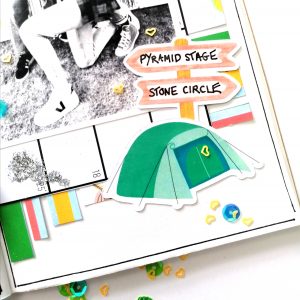 I wanted to add some smaller photos on the left hand side of the spread, these are mounted on the striped paper for continuity. My journalling is on a black & white tag from my stash. Sequins, glitter and bits from the cut apart sheet finished the page.
I do love to see bits and pieces poking out from the sides of my TN and the little pom-poms from my stash are perfect for this fun page!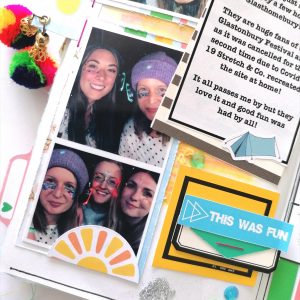 I hope I've inspired you and I'll be back later this month with a new project. Until then…
Happy creating
Philippa x