It's Time For A Story…..Come see the October Kit…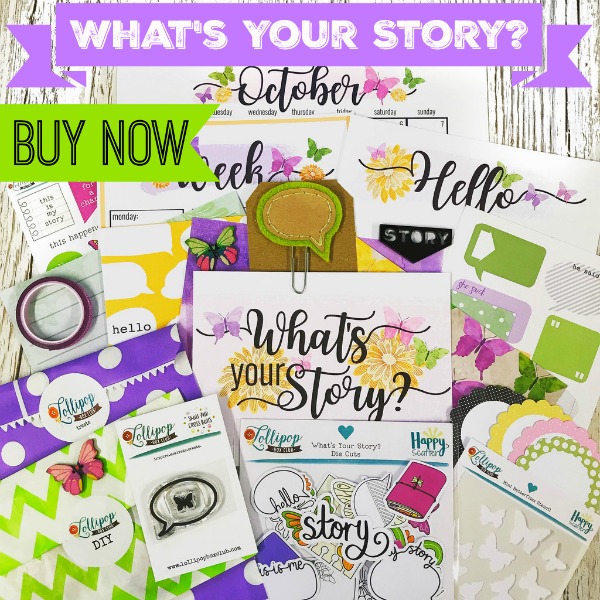 Here is the new October Kit 'What's Your Story?'
I wanted this kit to be all about telling your own story. Journaling 'YOU'. Telling your family stories, documenting conversations….see all the speech bubbles. But then why butterflies you ask??? The butterflies represent the changes that we all go through during our lives. Everyone's story includes lots of changes and they come in all shapes and sizes and each one has it's own beauty.
So that's what this kit is all about and my reasoning behind it.
Here's more detail about what's in this kit….
I think my favourite is possibly the exclusive papers this month….LOOK!!!  There's 2 of each in the boxes.
I love the speech bubble paper. I thought some can be cut out and some can be journaled in.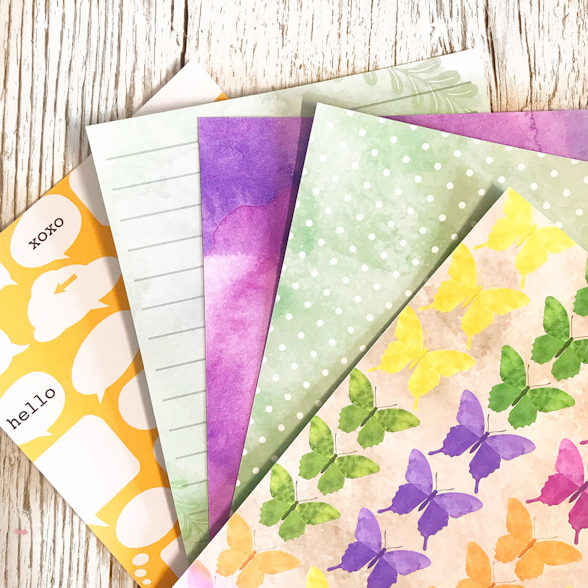 Love these cute die cuts. Some have been left blank for you to colour yourself. I thought that would make a fun change.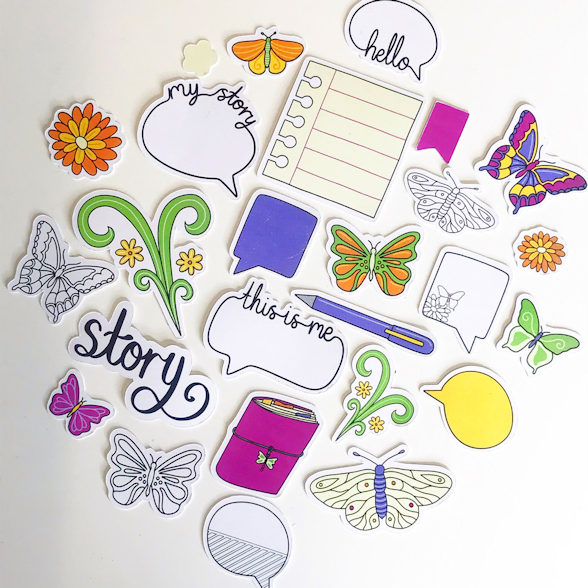 And then there's this month's stamp. It's a 2 piece stamp. I loved the idea of you being able to remove the butterfly which is a seperate stamp and using the speech bubble for jotting stuff down and journaling and then the little butterfly to decorate alongside. This would look so sweet in your planners!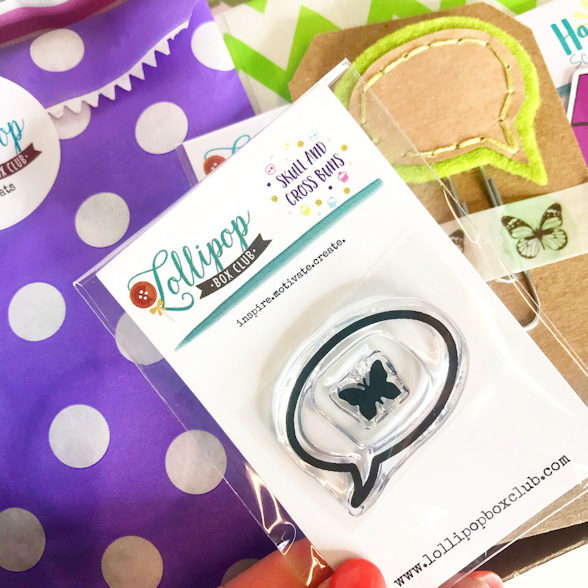 We are collaborating with Morag from Bramble Fox this month. Look out for a cool competition coming up : )
If you sign up to the chat group, you can join in here.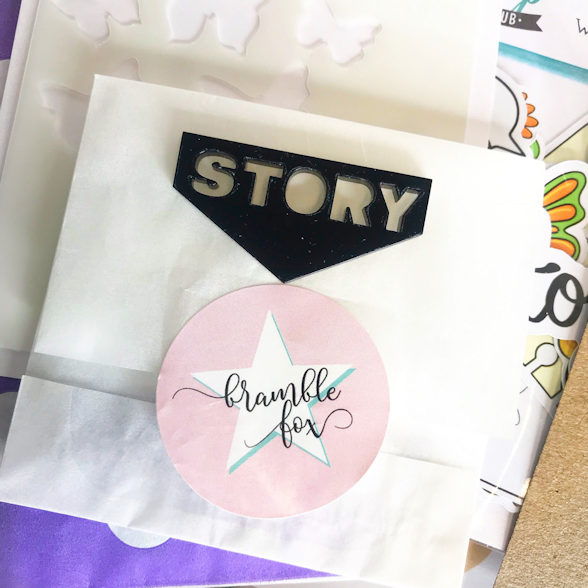 Here is this month's stencil. It's so sweet isn't it?!  This stencil is making me want to get my art journal out.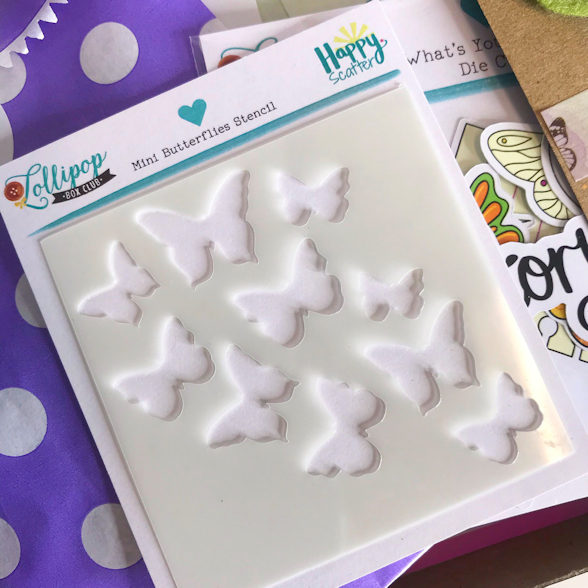 Stickers??? Anyone else love stickers?? Here's this month's exclusive stickers  : )  Ideal for planning, journaling, scrapbooking ….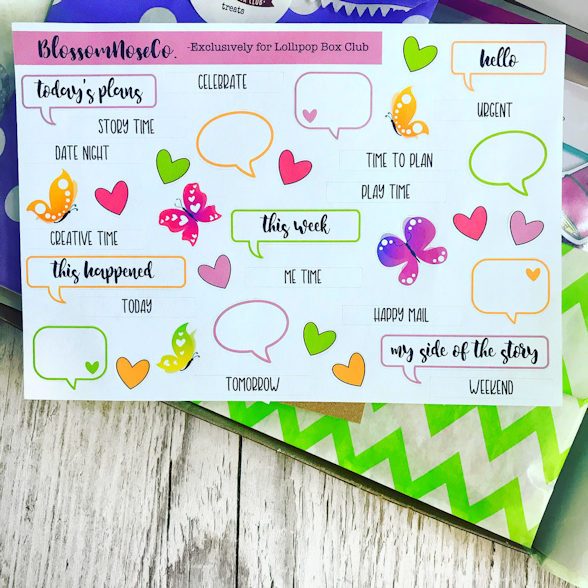 And there's so much more…lists…pretty letter paper and don't forget that if you are a subscriber you also get free codes to download for free. There's also a fun DIY Kit, Mystery Gift and a treat bag too.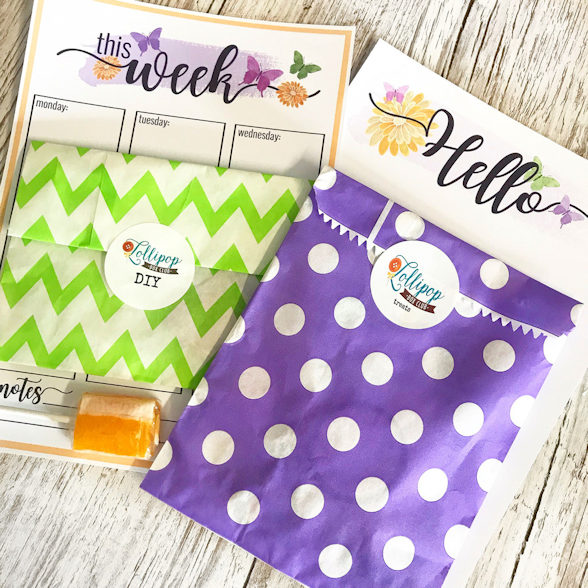 So much all in the one box.
Remember, there's still lots of surprises that I haven't shared with you.
You can subscribe to receive this kit at a discounted price here  .
And if you'd like to try a kit, you can buy a one off kit here. 
We have a private chat group here where you can see how other subscribers are using their kits and this month we also have a journal challenge coming, a competition with Bramble Fox and another fun happy mail swap.
So much going on this month : )
I hope you will love the look of this one. FREE UK delivery. It's £5.50 to post everywhere else. The boxes are post box friendly so can be delivered when you aren't home and they will all be sent on the 17th October.
Happy October everyone!!!
Lisa x