Hi there Lollipop friends!
I hope you are all looking forward to creating with the Time to Shine kit! I love quotes and I think the Einstein quote: 'Creativity is contagious pass it on' couldn't be more apt for all us Lollipop followers!
One of the best things about our hobby is that there is so much inspiration out there and such a willingness to share so we can all learn from one another. Whether it's a new technique we haven't come across before, a way to store our tools and equipment, ideas on how to arrange our craft spaces, a different way to use the kit or simply to connect with new friends via swaps and the chat group…… the list goes on! My TN spread is inspired by the quote.

Because my current TN is getting a bit full, I find it easier to work on  a separate piece of paper or card and then stick it in which also allows me to stitch on it it if I decide to.
I started my putting down some acrylic paint in colours to compliment the kit then set about cutting out the letters from the alphabet sheets to spell 'creativity'. The words 'is' and 'it' were cut from the Zine. I had enough letters for "pass' and 'on' but I decided to write Contagious!!
I cut the scallops using my pinking shears instead of straightforward fussy cutting and created little clusters top and bottom before stitching around my page in black thread. I love the die cut pencil and the little clip board from the Mrs. Brimbles sticker sheet!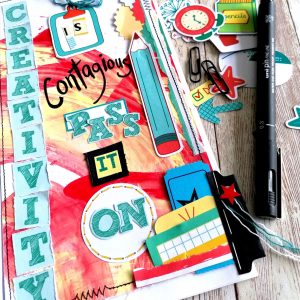 On the left hand side of my page I wanted to document the ongoing sort out of my craft room so I used a photo of my recently reorganised pen and pencil stash! Instead of having all my drawing and writing implements jumbled up in a multitude of pencil cases I've sorted them all out and used some of my favourite mugs to store them on a vintage tiered stand. I mounted the photo on black paper for continuity, used more of the scallops, die cuts and stickers to create a cluster and finally I added my journalling.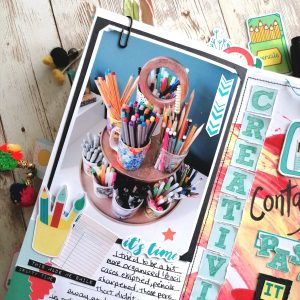 I hope I've inspired you in some way, whether it's using your kit, re organising supplies or slapping some paint on paper, have fun!!
Philippa x