Meal Planner with Vicki
.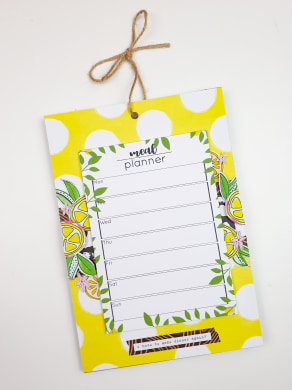 .
Hi,  Today I'm sharing how I've used the meal plan pad that came in June's 'Lemons' kit.  It's A6 in size and you can get one here.
I've made an A5 board from the box the kit comes in that I can attach it to so that I'm able to use both sides.
I cut the kit box down to size and covered both sides with papers from the kit.  I've added a strip of the number paper and a couple of strips of the washi to break up the page.
.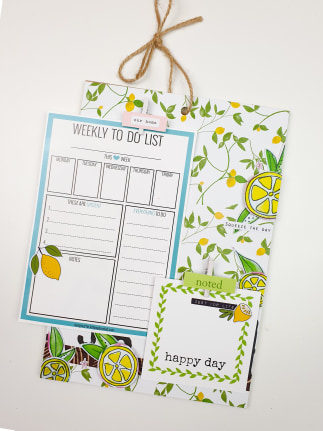 .
On one side I've used double sided tape to attach the meal plan pad to the centre.  I fussy cut some of the lemons and leaves from the pink and yellow paper and added them along the sides.  I've glued some down and added foam to others so it wasn't looking as flat. I popped a strip of washi near the bottom and put a sentiment on top.
.
I wanted to use the other side for a bit of a to do list and to make some notes.  I used my hot glue gun to attach two pegs at the top and the other three quarters of the way down.  I've cut down some bits from the embellishment postcard and glued those onto the pegs.
.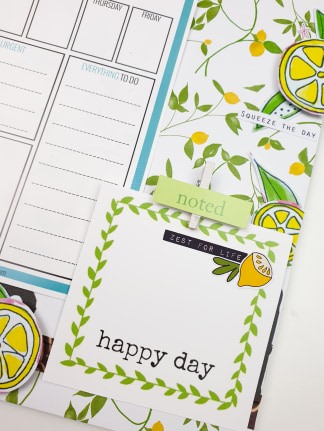 .
I had a look through all the available printables and chose a few different ones.  This one was my fave for that day! You can have a look through all the available downloads here – They're perfect for resizing and printing regularly.  I've used one of the small journalling squares to pop under the second peg for notes.
.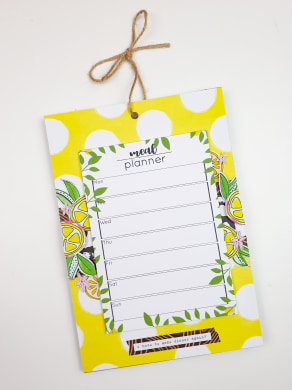 .
Lastly I used a hole punch to make one hole in the top and used the twint to make a loop.  I'll use a command hook in the kitchen to hang it from!
.
I hope you're enjoying your kits!
Vicki