Scrapbooking with Guest Designer Rebekah Brumby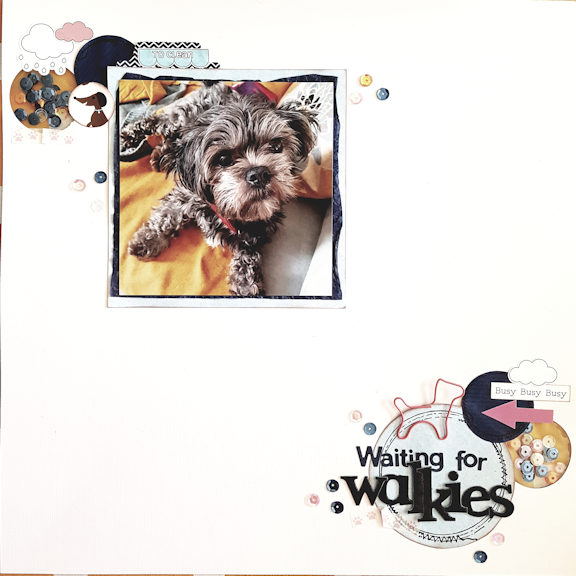 I have asked Rebekah to guest design for us this month. I've known Rebekah in the scrapbooking community for many years. She's such a talented scrapbooker, so I'm really pleased that she's joined us this month. Here's the first scrapbooking page from Rebekah using the April Kit.
Waiting for Walkies by Rebekah…
"We are very much animal people and currently have two hamsters, two rabbits, two cats and one dog. The animal theme this month is perfect and I have taken rather a lot of photos of the animals recently so I knew just the photos to use.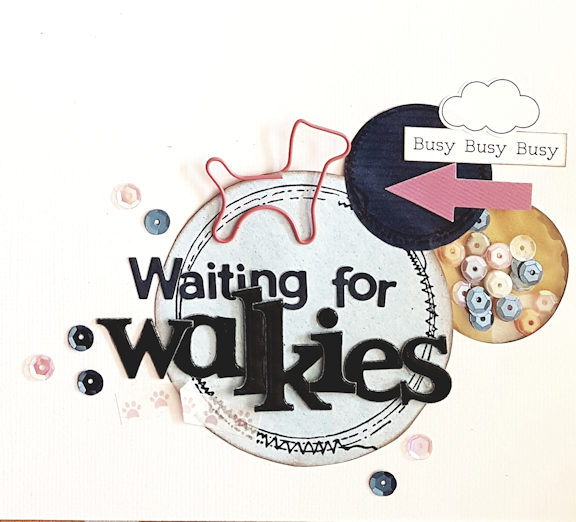 The kit is gorgeous. I am a big fan of sequins and love the colour combination in this kit. It's great for males and females. To showcase the sequins I decided to make some little sequin pockets using a circle punch and the plastic wrappers from the kit. These were stuck to the back of the layouts around the circle using Glossy Accents, filled with sequins and then sealed with another piece of plastic using more Glossy Accents.  I hand cut the other circles and stamped stitching on but this could just as easily be done by hand.  I matted the photo on a piece of tissue paper from the packaging that I had crumpled and then smoothed out and then on to some of the patterned paper. The cute dog paperclip just had to find its way on to this layout too.
As I am sure you all know, odd numbers are said to be the most aesthetically pleasing so I chose to cluster the circles and sequins in groups of odd numbers and then add some embellishments to make the layout interesting. There was so much choice in the kit I had to reel myself in a bit but that just means there are plenty left for a few more layouts. "
Thank you so much to Rebekah. I just love this cute LO and I love seeing how she's used the sequins this month.
There will be more from Rebekah again next week : )