Hi!!
Today we are sending a little friendly cheer. We are making cards!!
I enjoy making a few simple cards each month. It's a great way to grab a few minutes of creative time when I'm really busy but have that urge to create. It's also a fun way to use up scraps and it's just a really nice thing to do….send a little cheer in the post to someone.
I've used the March kit here, to make 3 simple cards this month.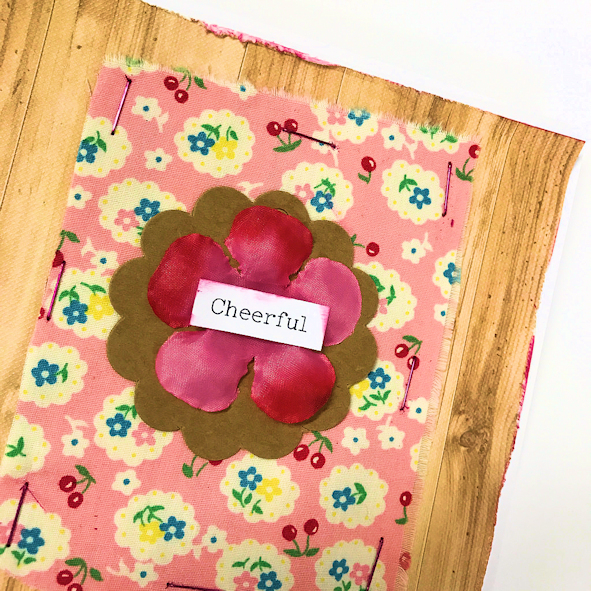 This is my first one 'Cheerful'. I used some paper from the kit along with a little of the blossom fabric, the kraft tag, a flower and the word 'cheerful'. All from the kit.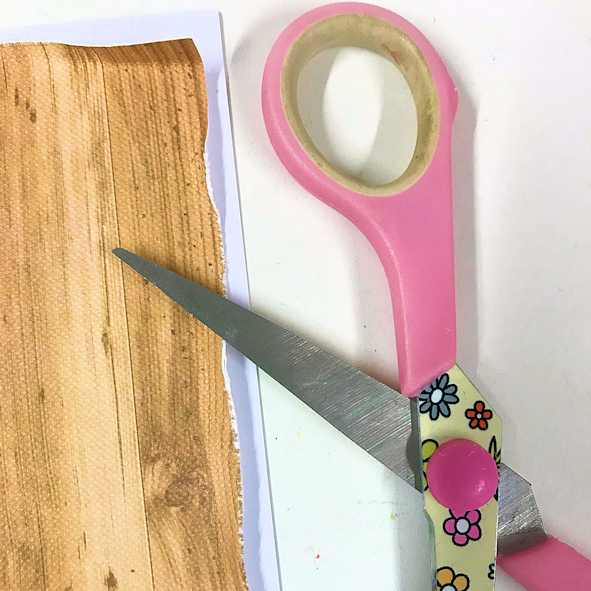 I sometimes like to distress the edges of my card. You can buy distressing tools to do this, but I've always just used the edge of my scissors and just scraped up and down the edge of the card to get that rough distressed look. Just go carfeul of your fingers and remember to scrape away from you. I then just fold in the edges a little so it looks like this…see above.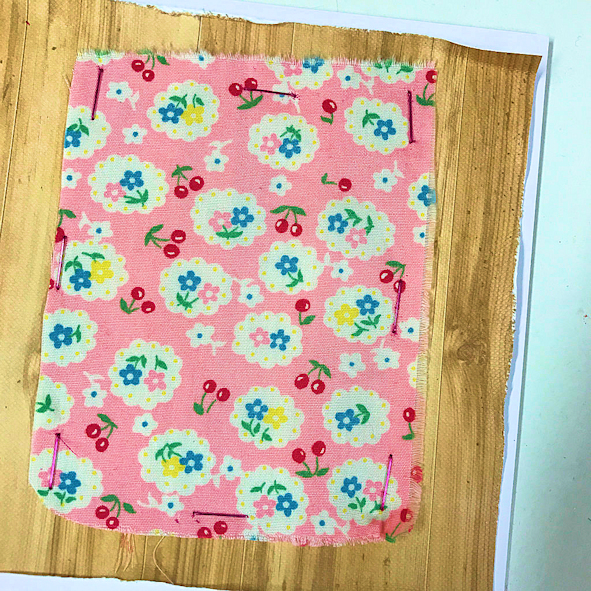 I cut a little of the fabric and pulled the ends to roughen it up a little and then stapled it in place. You could also glue it or use the brads that come in the glassine envelope in your kit.
I added the flowers and the word strip to the centre and then added a little pink ink down the sides of my distressed card for a little extra colour. It matched the flower really well.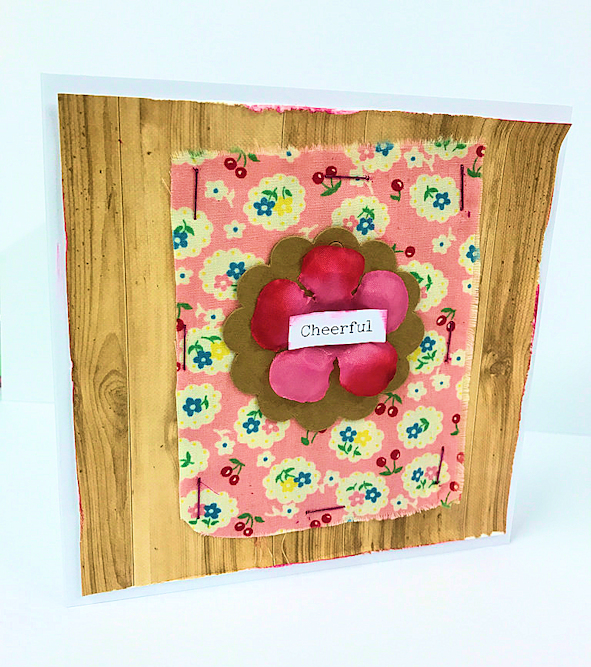 And there's my Mother's Day card.
I also made a couple more quick cards using the kit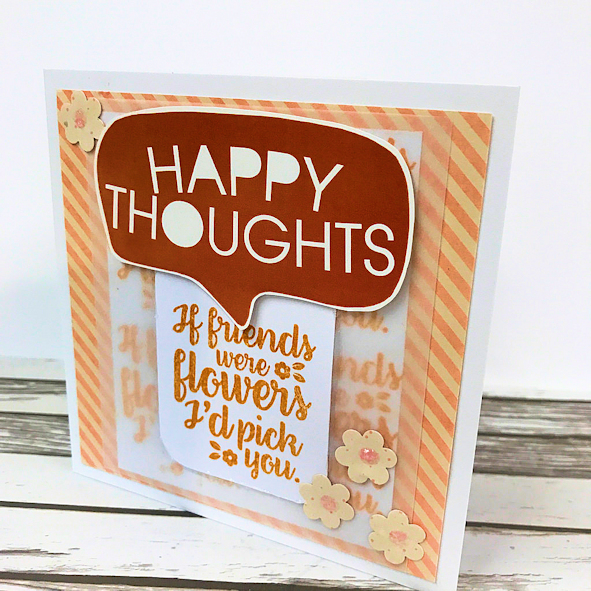 I cut the 'Happy Thought's piece from the sheet at the back of the kit.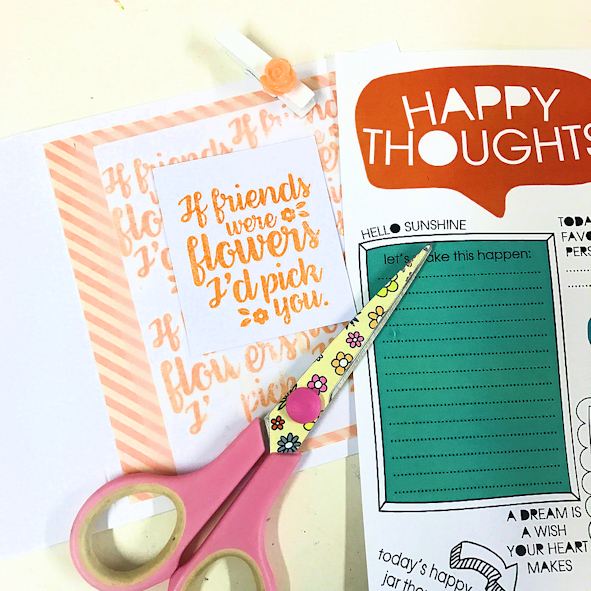 I also used the stamp from the kit on the next 2 cards. I stamped it several times on to scrap white card for this one to create a background and then stuck some clear plain vellum over the top and stamped the quote one more time.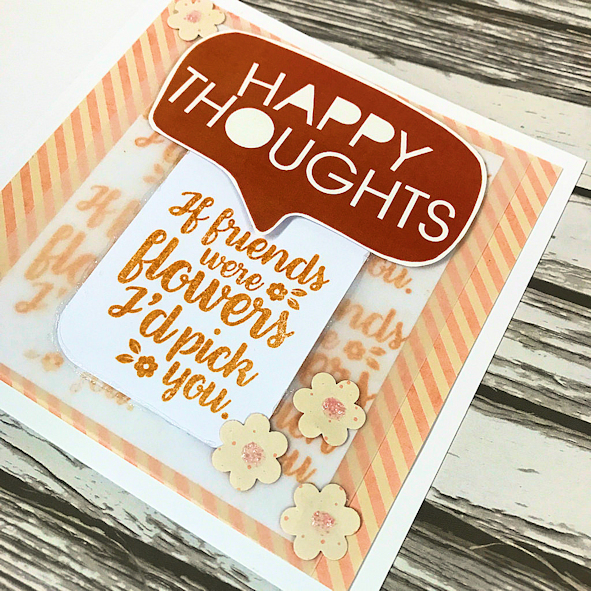 I used a small flower punch then and some paper from the kit to add a few little flowers to the card to finish it off.
My final card is my favourite and the easiest and quickest to make.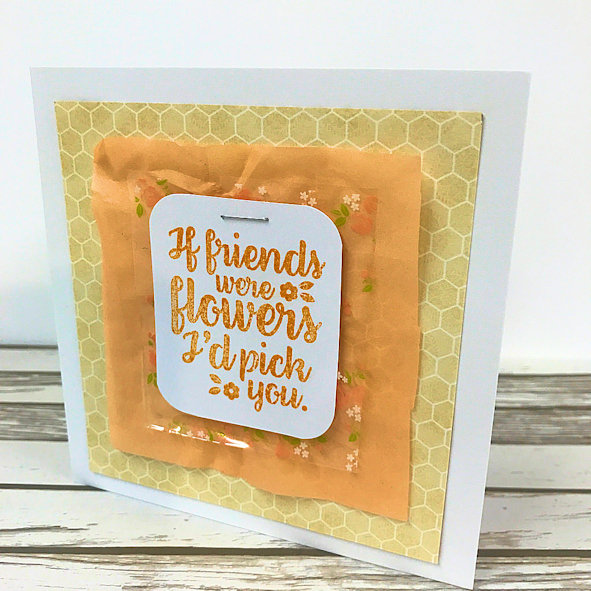 Just a little card from the kit with a smaller piece of the peach tissue from the kit packaging. Then more packaging….I cut some of that gorgeous little cello bag that the stamp came in. And I stamped the quote on to white scrap card again and rounded off the corners. I stapled the top before sticking in place. I'm really pleased with this one.  There's something so satisfying about using packaging on a project : )   Like you are using something that's free!!

So there you have my 3 super fast and easy cards.  Now it's your turn. Time to send a little cheer to someone in the mail……