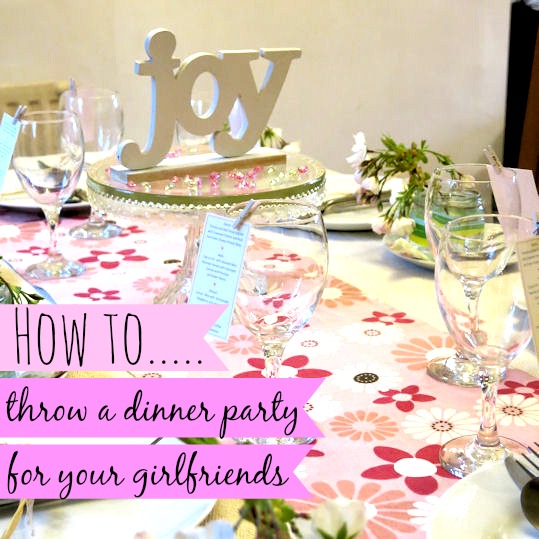 A couple of years ago I threw a dinner party for some of my favourite girlfriends. It was such a fun evening, so I thought I would share it with you here today as it fits in quite nicely with this month's Cherry Blossom & friendship theme.
I'd decided that I wanted to spend an evening near to my birthday with some of my favourite people. Not all my girlfriends knew each other, but I knew that they'd all get on really well. This for me was part of the enjoyment, introducing my close friends to one another.
I wanted to treat them all to a really nice evening. Good food with lots of chatter and giggles.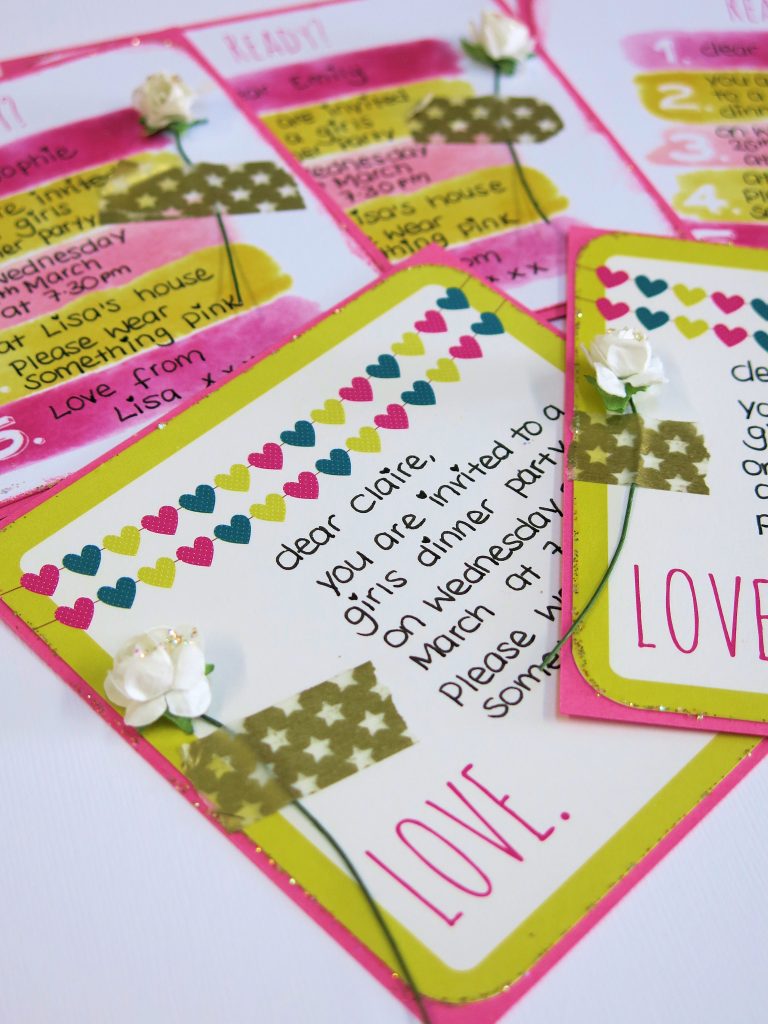 I did speak to each friend and confirmed that they could make the date and time. It was then that I send out the invitations. This was more for my enjoyment as it was an excuse to make something pretty  : )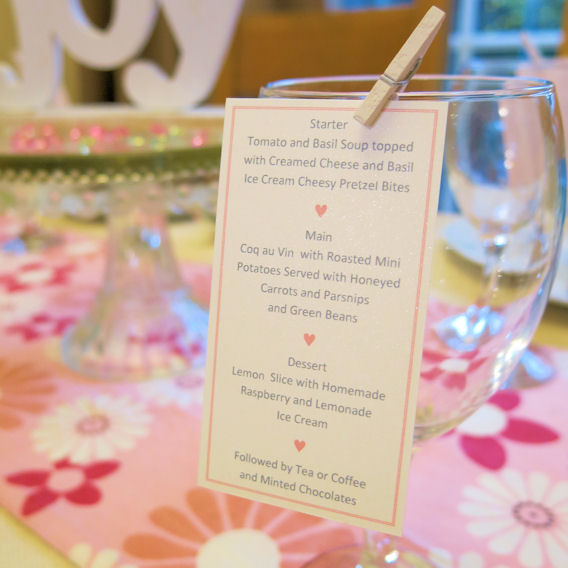 Before I worked on my menu I did double check all likes and dislikes. I then had lots of fun decided what we would eat. I wanted to try out a couple of new ideas. I really enjoy cooking and menu planning! When working on the menu though, you do also need to be practical. It's just not worth making something that takes hours of prep if you can't be home during the day to work on it. Plus it will take the enjoyment out of your evening. It was also important to me that my menu could mostly be ready before everyone arrived so that I spent as much time as possible with my friends at the table rather than preparing food in the kitchen. That's not great hosting!!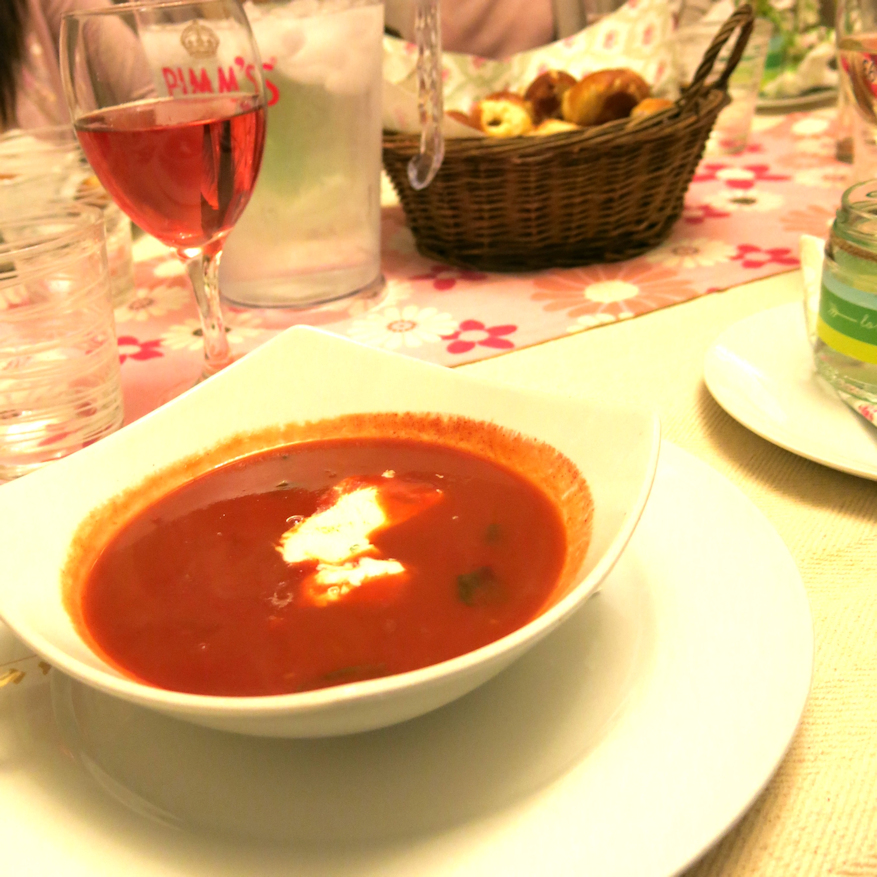 Something like soup is great as it can be made in advance. I decided to make a cream cheese ice cream to spoon on top of the soup, purely as it was a little different. It was really good and a really interesting addition to the soup.
I did need to make the cheesy pretzel bites just before they arrived. But I had them all ready to pop in the oven as the girls started arriving. These were the biggest hit of the evening. They were so good.
The Coq au Vin was popped in the crockpot, so nice and easy and the lemon slice was made the day before. I have an ice cream maker, so making ice cream is quick and simple.
So it was a really tasty menu, with little time in the kitchen whilst my friends were here. Great planning!!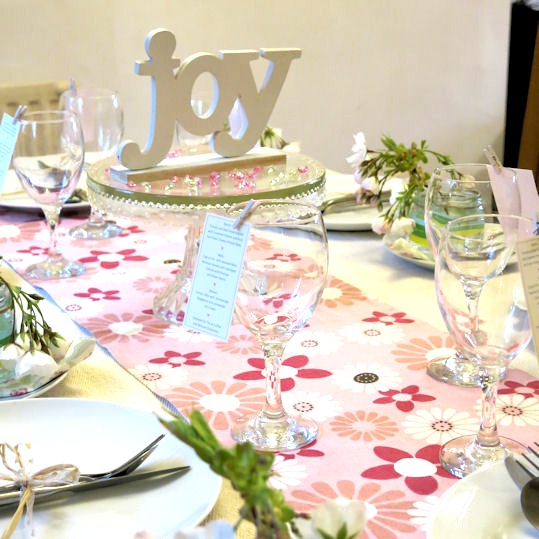 I wanted the table to be set and look beautiful for when they arrived. I wanted them to feel like a lot of effort had been put in to make them feel special. These are all such lovely friends. It was almost like a little way of being able to say 'thank you' for your friendship.
I pegged a mini menu to each wine glass.
I love little touches. I think it's things like this that make such a difference. I tied the cutlery together with raffia for a little rustic touch to keep in with the Cherry Blossom theme.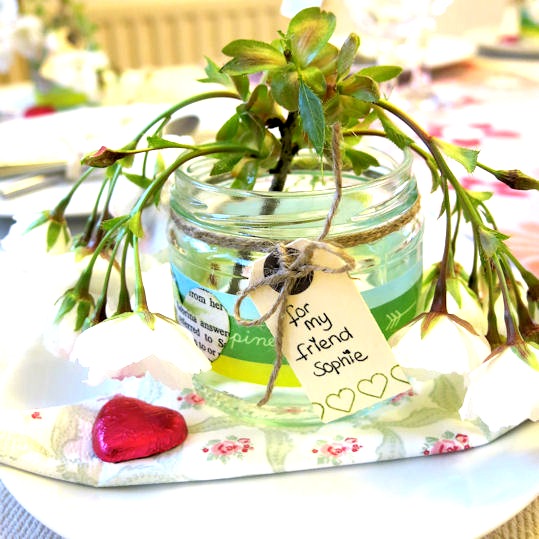 I like adding place settings when I have friends/family over for dinner. Maybe that's years and years of having a wedding stationery business,  but I like to think who would sit best with who and have the most fun and interesting conversations. I'm sure my husband would disagree though and say it's because I'm a control freak!    : )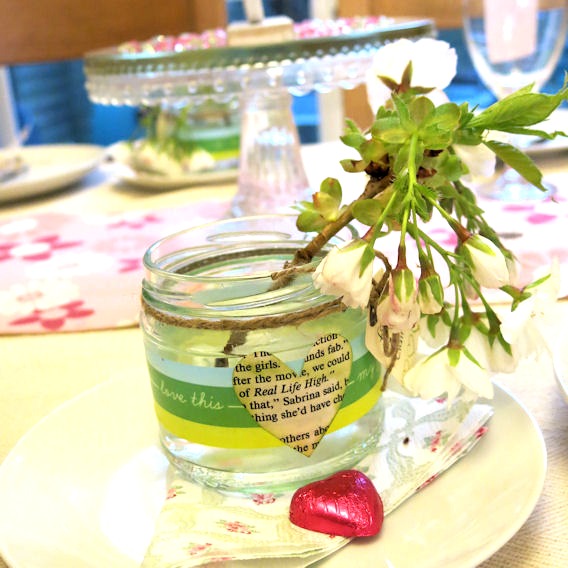 Whenever I make place settings, I like to make something that my guests can take a way with them. As my Cherry Blossom tree was in full bloom at the time, I'd collected old jars and using washi tape and string I made little vases and cut a little blossom branch for each friend and added a name tag. They took these away with them at the end of the evening. I also added a chocolate!
So that was my evening.
It went so well and everyone really enjoyed it. I really must throw one again soon.
I really recommend doing this. It was so nice to be able to do this for a few of my besties. It's good to make your favourite people feel special and appreciated.
Lots of love….Lisa x