Hello Lollipop friends!
I'm back with another little project using the 'Here's the Story' kit. I wanted to utilise the piece of fabric included in the kit so
decided to make some embellishments for use in future projects. These are the pieces I've made so far.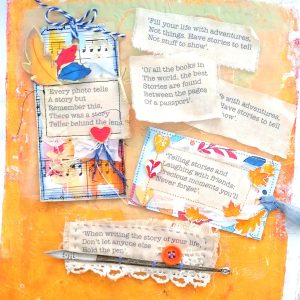 As the fabric was white I felt the need to 'dull it down' and for me, the easiest way to do that was by gently wiping over it with a used tea bag. If I'd wanted the end result to have a particularly vintage or grungy look I could have steeped the fabric in tea but instead,  I immediately washed it under the tap and that left me with a shade I was happy with.
I love quotes and spend a lot of time trawling the Internet or Pinterest for quotes that 'speak' to me! As the main focus of the kit is all about telling stories I found quite a lot of quotes that I was drawn to.
I typed my chosen quotes into a Word document using a size 14 font in American Typewriter and a dark blue for the text. Next, I took my dry, ironed piece of fabric and lightly adhered it to a sheet of plain copy paper using a Stick & Spray fixative. I have a regular Canon Ink Jet printer and have never had problems using this method to print on anything other than paper! I'm sure you could use a dab of Pritt or tape to attach the fabric to the paper around the edges but I haven't tried using that method so can't vouch for it!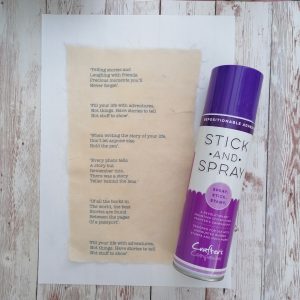 With a bit of careful cutting I was able to trim the sides of the fabric piece to give me a couple of fabric strips! I frayed the edges of each quote and then I was ready to turn them into decorative embellishments. I knew I'd probably want to stitch some on to other fabric pieces and use some in paper based projects so I gathered together a selection of bits and pieces from the kit and my stash.
I hand stitched my chosen quote on to a piece of vintage linen, added a button and a lace scrap for interest and used a chip board pen from my stash which I held in place with a few stitches. I will probably incorporate this in a slow stitch journal cover at some point!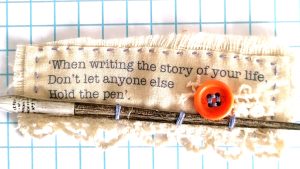 For my next piece I made a tag using the music manuscript paper in the kit. I inked the edges and added some colour. I love the leaf stencil and although I ended up covering some of it, I actually used fluffy texture paste which I painted with gold ink! I added some fussy cut leaves, a tiny heart and then machine stitched my quote in place as well as machining around the edge of the tag. I pulled apart a little of the blue and white twine in the kit to add a cluster under the heart and the rest was used as a tie.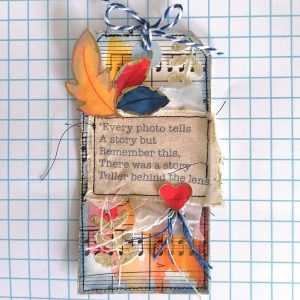 The final piece I've finished is another tag using a kit paper for the base, the little leaf stickers and tiny hearts cut from kit papers. The quote and edges of the tag are machine stitched in gold. The tie is one of my off cuts of fabric coloured with distress oxide ink.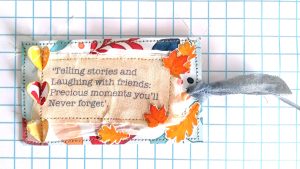 I've still got some quotes and fabric scraps left!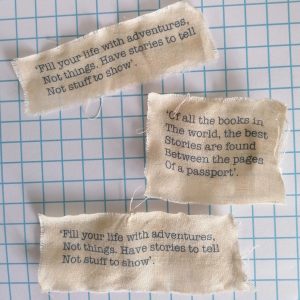 It's been a pleasure to be a Guest Designer and I hope I might have given you a few new ideas to try! I've still got lots of bits and pieces from the kit left and as I was lucky enough to have a few days in Paris last month I hope to use them in my journal.
Happy Crafting
Love Philippa x