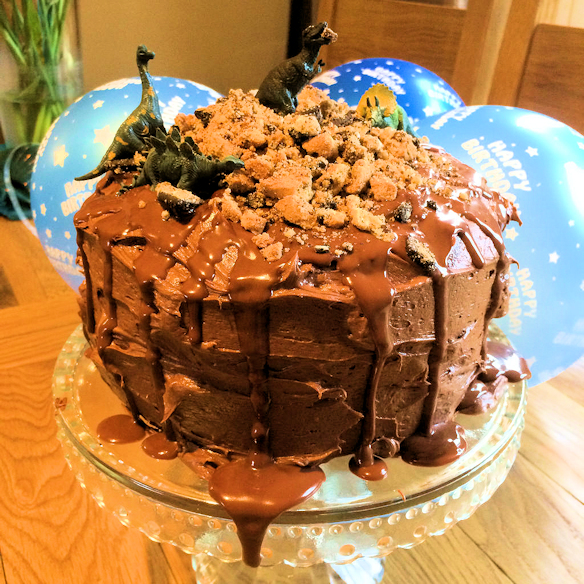 Not only do I have the best chocolate cake recipe EVER, I'm also going to show you how to make a Pinata Cake today.
It's our birthday month, so there should be cake. I have a new YouTube video up today of a weekend vlog where I make this cake for my Mum's birthday. You can watch it here.
I'm not a huge fan of chocolate, I have to be in the mood, but even I love this cake. It's so gooey and more'ish. It's the best chocolate cake I've ever tasted. In fact it's so good, I made this Pinata version for my Son at the end of January and I've since made 2 other variations which I will also share with you.
I'll start with the recipe.
I've pieced together 2 different recipes to make this.
I start with a cake recipe that I found on 'Food Network' courtesy of Ina Garten.
You need;
1 3/4 Cups of Plain Flour
2 Cups Caster Sugar
3/4 Cups of Cocoa Powder
2 tsp Baking soda
1 tsp Baking Powder
1tsp Salt
1 Cup Buttermilk (I make mine by 1/2 natural yogurt and half milk mixed together
2 Eggs
1/2 Cup Veg Oil
1 Cup Freshly Brewed Coffee (it doesn't give it a coffee taste, just makes it richer)
To Make:
Preheat Oven to 180C – 350F
Butter/line 2 x 8" baking tins.
Sift together the flour, sugar, cocoa, baking soda and baking powder and salt. Mix.
In another bowl mix together the buttermilk, oil and eggs.
Slowly mix the wet mixture in to the dry mixture until fully combined.
Then add the coffee and mix well.
Divide the batter into the 2 tins and bake for 34-40 mins.
Once cool pop them onto baking racks and cool completely.
Chocolate Frosting:
1 Cup unsalted Butter
2/3 Cup Cocoa Powder
3 Cups Icing/Powdered Sugar
4-5 Tbsp double cream or whole milk
Place the butter in a bowl and with an electric mixture beat on high for a couple of minutes.
Add the cocoa powder and icing sugar with a little cream and mix. Continue gradually mixing in the cream.
Mix for about 4-5 minutes. The frosting should be nice and thick and paler in colour.
Spread some of the mixture on top of one of the cakes and sandwich together.
To make a Pinata Cake: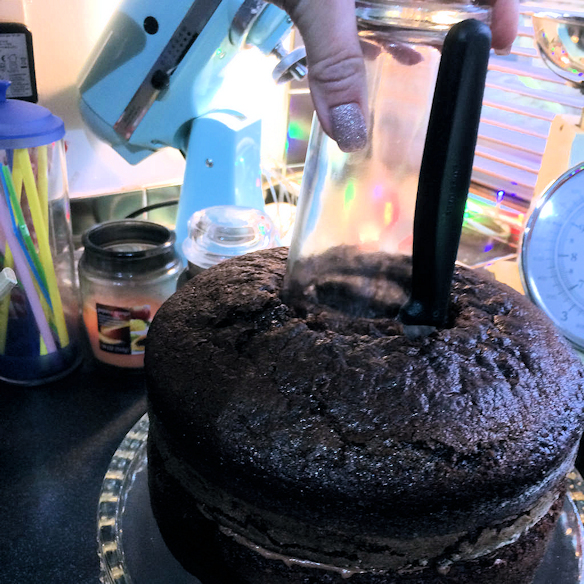 You need to make a hole all the way through the cake. Take a glass and a knife and cut around the glass all the way through the cake. You can remove this piece.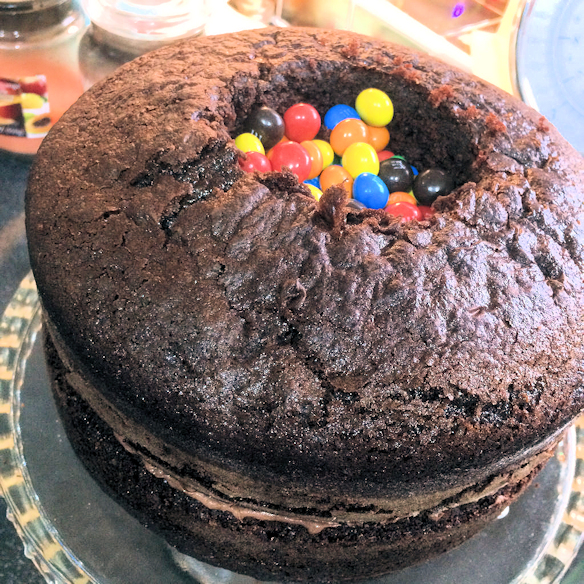 Fill the hole with M&M's.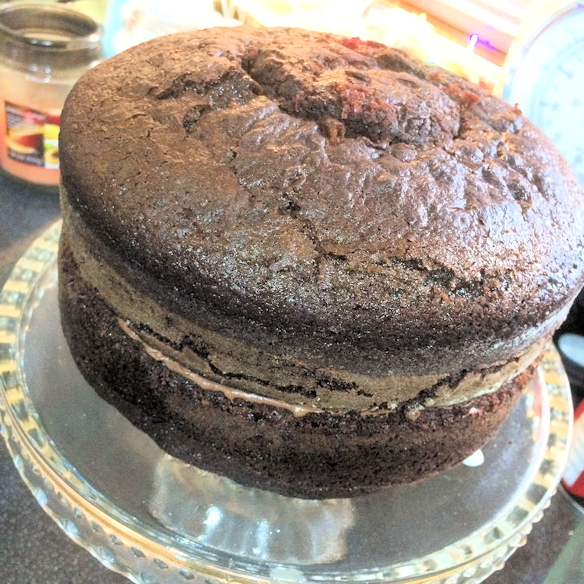 Take the piece of cake that you just cut out and cut off the top piece to cover up the hole where the M&M'S are like this.

Now with the remainder of the frosting cover the cake and place in the fridge.
To make the Chocolate Ganache to pour over the top:
You Need.
2 Ounces finely chopped dark chocolate
4 Ounces Double Cream
Place the chopped chocolate in a heat proof bowl.
Put some water in to a saucepan and bring to the bowl. Carefully sit your bowl on the top so that the chocolate can melt and add the cream and keep mixing together to make a creamy chocolate sauce. Leave to cool down a bit.

Once cool pour over the top and let it drip down the cake.
I turned this one in to a dino cake. I crumbled up choccie chip cookies on top and added toy dinosaurs.

Once you cut the cake ….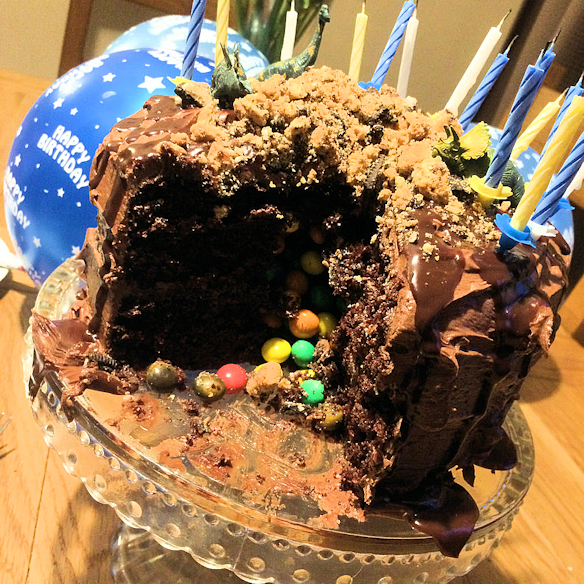 The M&M's fall out.
It's so good.
I also made this with thick cherry jam and cream in the middle and turned it in to a Black Forest Gateaux Cake. No Pinata this time.
I pieced it together, added the frosting, ganache and whipped cream with grated chocolate and cherries on top.
I made this for a dinner party and it went down a treat.
My recent version I made for my Mum's birthday. I just made the cake and frosting with ganache.
 
I grated chocolate over the top and added strawberries.
I was so pleased. It turned out so well.
I hope you love the cake and I hope you enjoy the video too.
Lisa xx