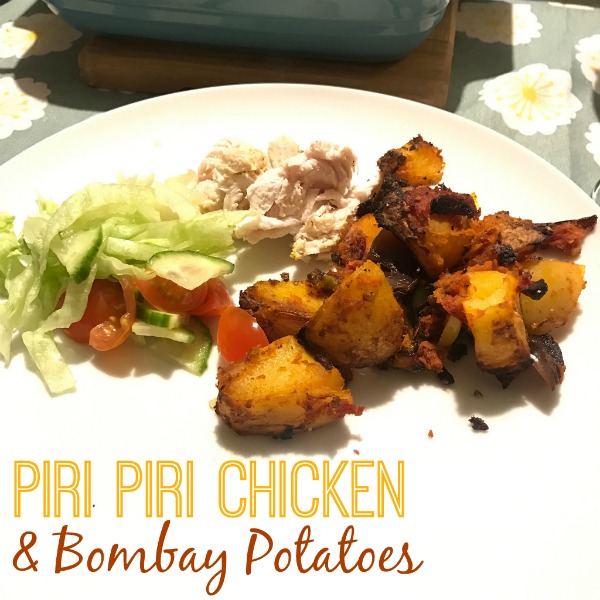 Hi!!
To go along with our 'Wish you were here' theme is this yummy dinner that I love to cook for my family. It's a mixture of Piri Piri Chicken with Bombay Potatoes. We all love this. It's light and great this time of year teamed up with a salad.   But we also love this in the Winter months too served with crusty bread.
This meal serves a family of 4, but you can adapt for your own family size.
Here's how I make it.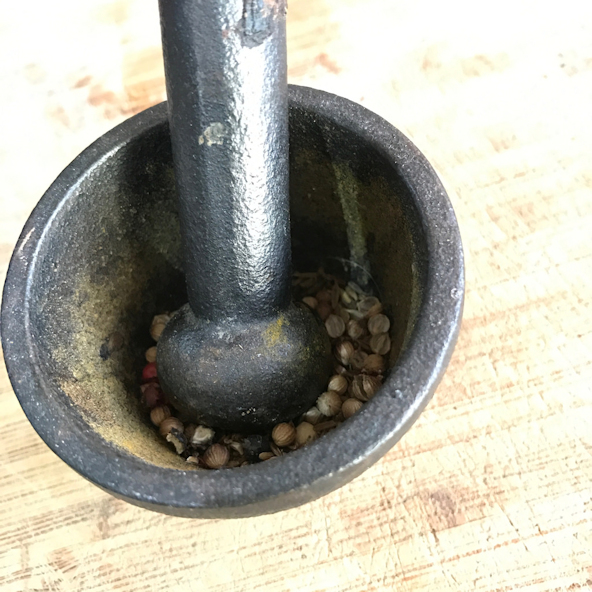 I start by preparing the chicken.  This is to make the Piri Piri marinate.
I take 1 tsp of coriander seeds, 1 tsp cumin seeds, a pinch of peppercorns and grind together.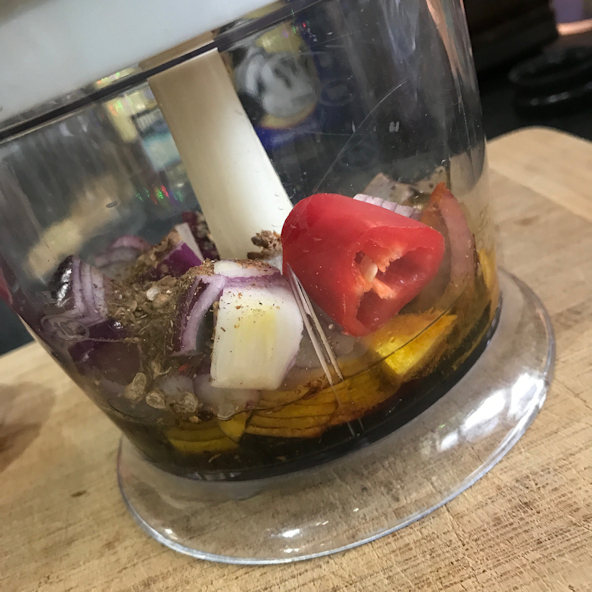 In the mini blender goes the seeds that you've just ground, 1/4 cup of olive oil, 1/4 cup of balsamic vinegar, 1 small red onion chopped, 3 large pieces of garlic peeled, a small piece of red chili if you like a little spice (if you don't leave it out!) and a large pinch of dried basil and blend together.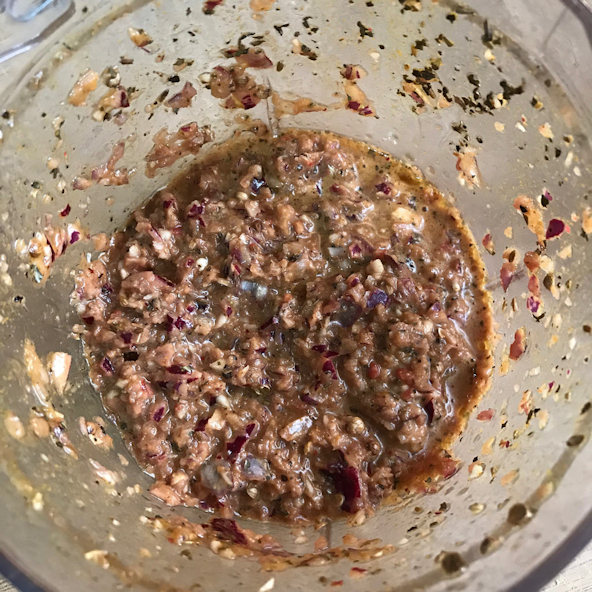 Once blended it will look like this.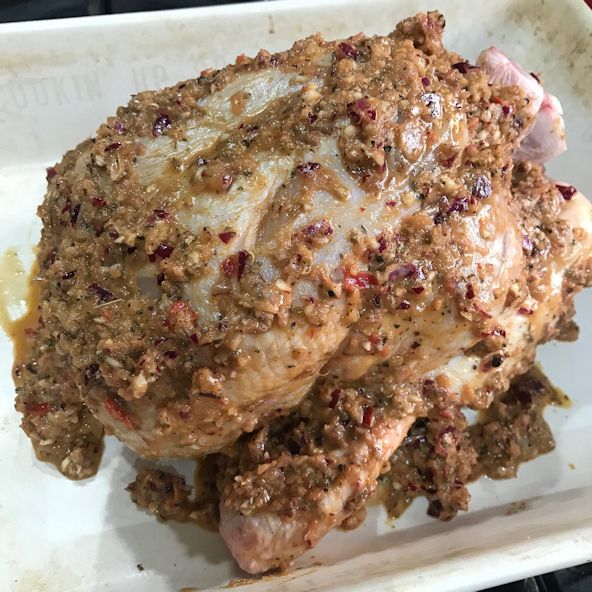 Take a medium sized chicken and a sharp knife and cut slits in to the chicken all over. Now spread the marinate all over the chicken. Go careful, the marinate is pretty potent. Your eyes may feel it!! Cover the chicken in foil and cook according to the weight of your chicken as this will vary depending on what size you have.
Now on to the potatoes.
Take some white potatoes (enough for however many you are feeding) wash and chop into bite sized pieces. I like to leave the skins on too. And then put in a pan boiling water. You just want to soften them very slightly, so don't leave them in too long. You want them still to be solid and whole when you remove and drain from the water. You don't want to end up with mash!!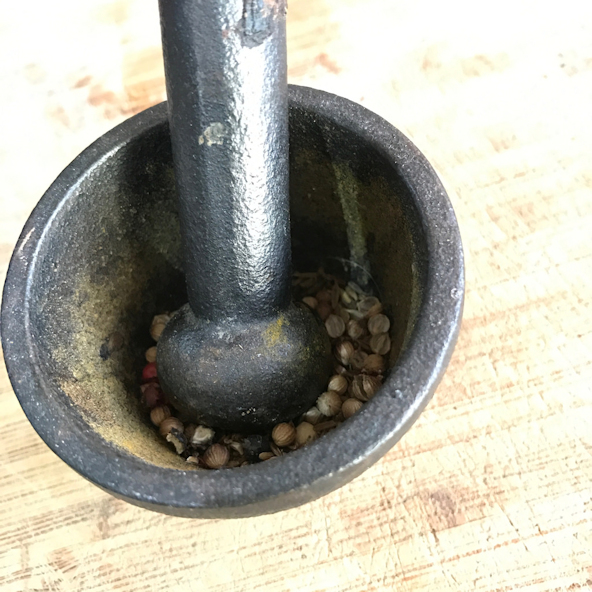 Back to the pestle and mortar and grind down another tsp of corianader seeds and 1 tsp cumin seeds and a good pinch of peppercorns, just as before.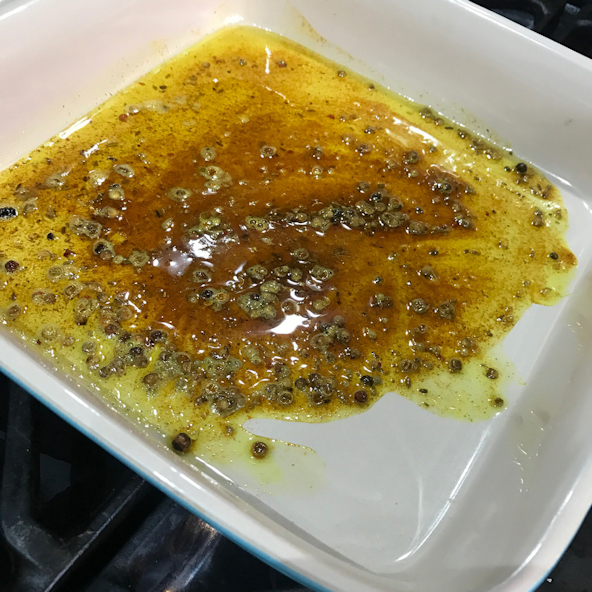 Add some olive oil to a large baking dish. Add the seeds along with 1 tsp of tumeric. Mix in to the oil and place in the oven with the chicken so the oil gets nice and hot. It just needs to be in for about 3-5 minutes.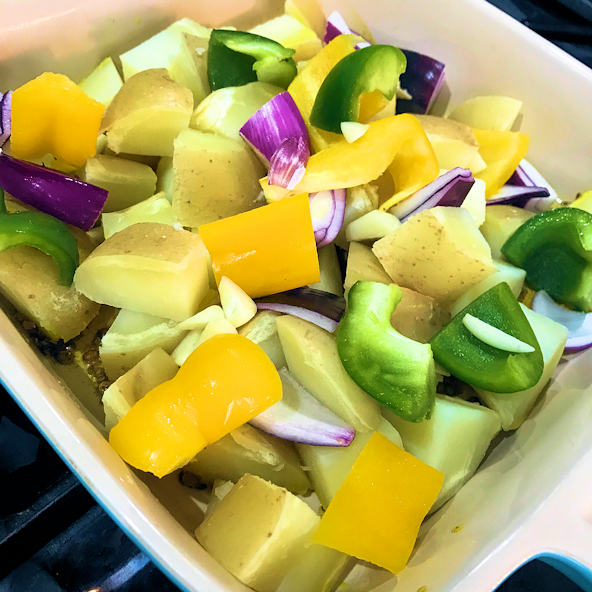 In the meantime cut up a small red onion, a couple of large gloves of garlic and peppers too. It's a good way of using up bits in the fridge sometimes. I sometimes add fresh tomatoes too chopped up if they need using.
One you've drained off your potatoes and taken the dish out of the oven, add it all to the spicy oil and give it a good mix with a spoon. Don't go too hard on the spuds!!

Add 3/4 tin (200g tin) of chopped tomatoes and gently stir in. You want there to be enough so that everything is nicely coated like this. You don't want it swimming in tomato juice!
Now place in the oven with the chicken. I tend to find that they take about 30-45 mins to cook on 190c.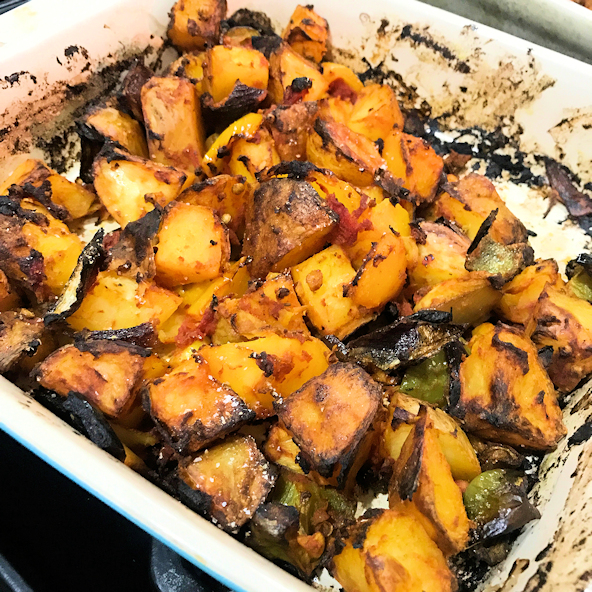 Take the potatoes out a couple of times whilst they are cooking to give a stir and I also add some sea salt at the end. We like our's crispy like this, but you can bake your's for less if that's how you prefer.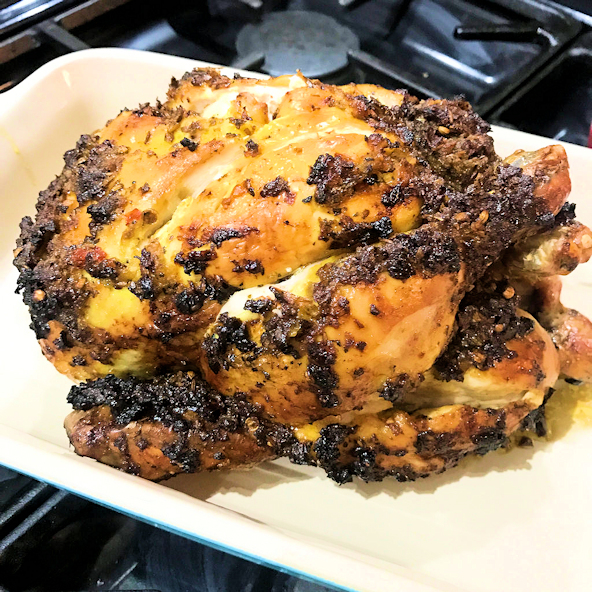 Keep an eye on your chicken. Remove the foil about 10-15mins before it's done so the skin crisps up nicely. Making sure it's properly cooked before taking it out to serve.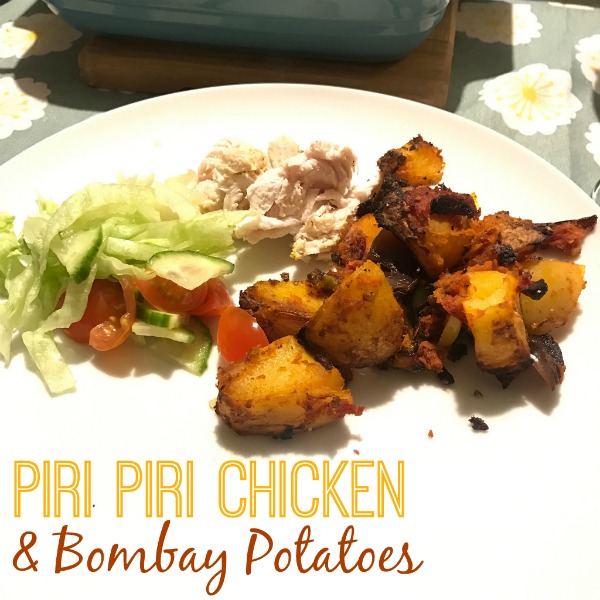 Serve with a salad. It's just perfect this time of year and even our fussy one loves this family meal.
I also love that you can adapt this to spicy and non spicy lovers.
I hope you enjoy one of our favourite family meals.