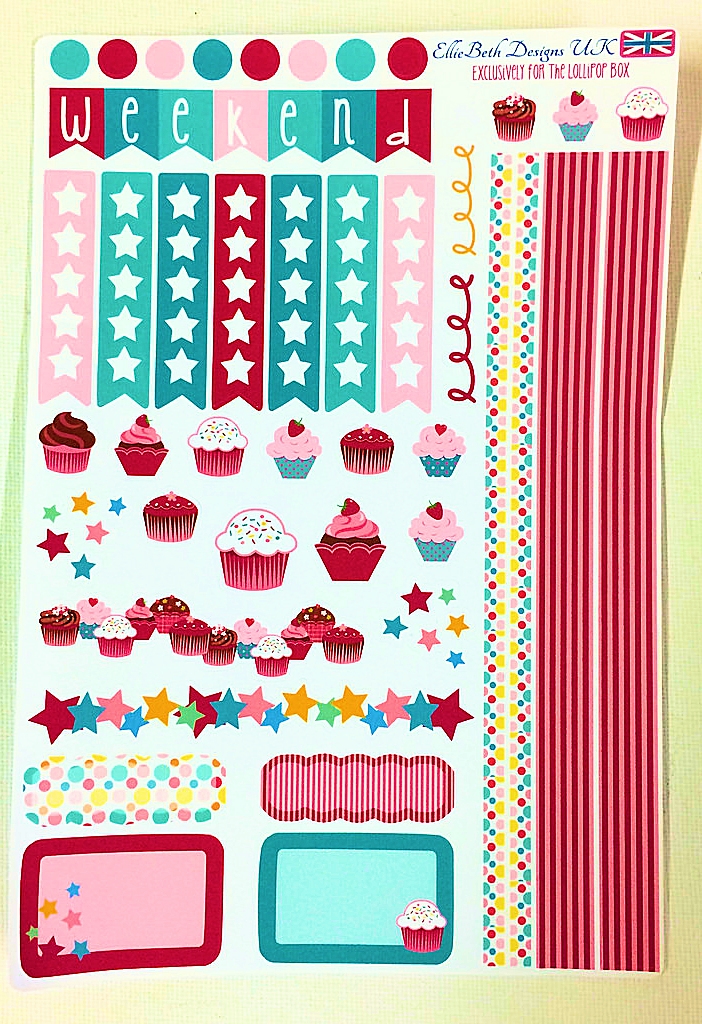 Today I am excited to show you the wonderful set of stickers that come with this month's May Kit exclusively designed for us by EllieBeth Designs UK. These stickers can't be bought anywhere else and they match this kit just perfectly.  Don't you agree?!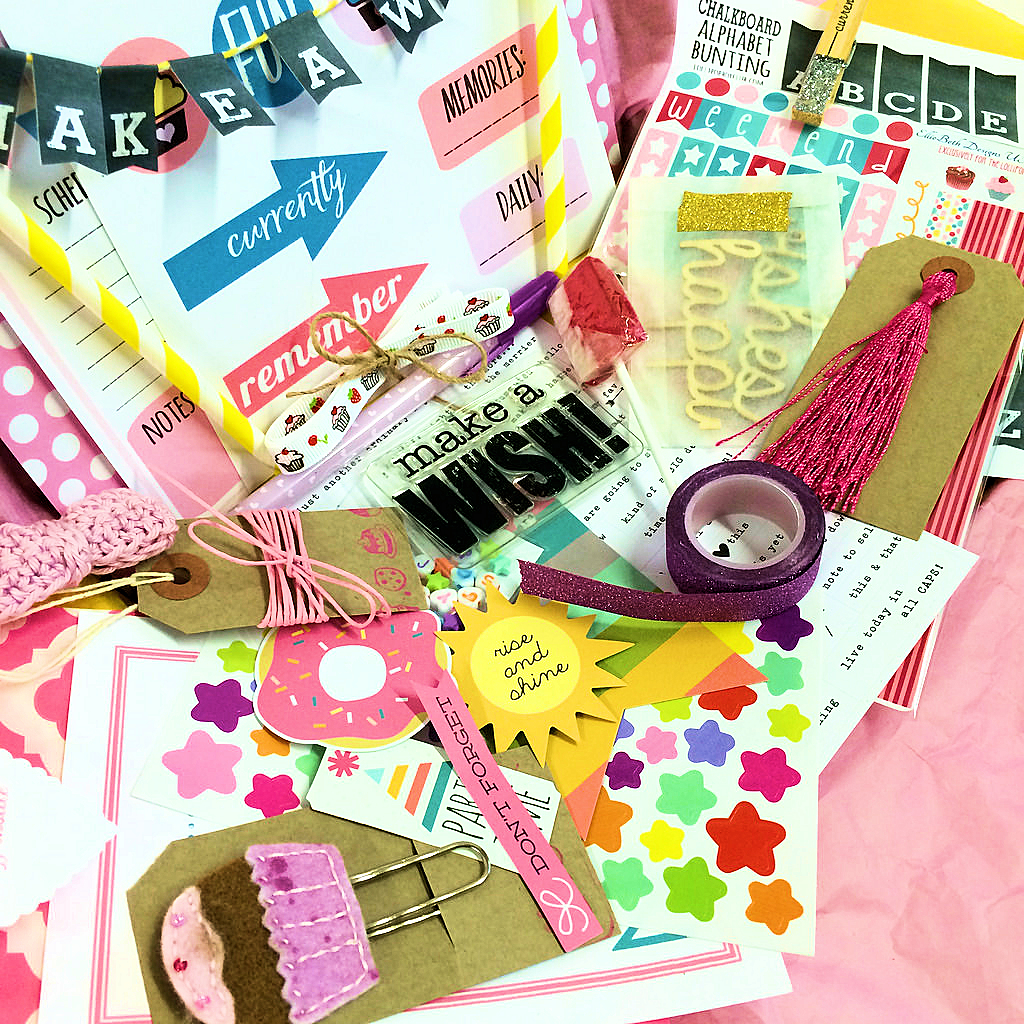 I was so pleased when Rachel from EllieBeth Designs UK agreed to work with us. Her stickers are so popular and rightly so as they are wonderful.
Rachel's business has really taken off. You know how nosy I am…..I was so interested to find out how it all came about. I love hearing from other Mum's that have started up their own business and hearing their own story. I found Rachel's rather moving.

Here's Rachel's story:
I'm a Christian, wife, mother of 2 beautiful girls (Eleanor and Elizabeth) and have a love for all things bright and colourful! I discovered the (then fairly new) planner community around 3 and a half years ago, when a Pinterest board caught my eye, and haven't looked back since. Over the years, there has been an explosion of beautiful things to make planning about much more than just what needs doing when – for me, it's a scrapbook/ memory keeping/ journal/ creative hobby/ daily management system all in one – and I love seeing how the community has grown.
EllieBeth Designs UK began in February 2015 – my aim then was to sell a few sheets a week to pay for the cutting machine I'd indulged in as an way to save on shipping and customs costs as virtually every sticker shop was in the US at that time. Within days, that first goal was completed – and I realised that there was an opportunity in the UK to create a community around this wonderfully individual, colourful, and (hopefully!) useful hobby of planning. My Facebook group began, which now has over 2000 members, and EllieBeth Designs UK has continued to grow – becoming a limited company in August of last year. Yet – before the company began, I was in a tough place, having finally been brought to a point in my life where I had time to work through some issues. My faith played a huge part in my recovery and if there's one thing I'd want people to know, it's that I don't have it all sorted – but I know the one who does.
My heart has always been for the people who use what I make – whether they're actively involved in the planner community or not. My desire is that what I make can brighten up every day in some way – and when I spot one of my stickers in use on social media (or lately, in 'real life' at a planner meet up!) I get a rush of excitement and also feel so privileged that they've chosen to mark events in their lives with something I made. When I look at the numbers behind EBDUK, they amaze me! At the time of writing, there have been close to 19 000 sheets of stickers sold, and over 7000 reviews written. WOW. I am so grateful to each and every person who is part of it – without them, it wouldn't exist, after all! The business and the community have literally changed mine and my family's life – the things we thought we had given up when I left work as a financial advisor at the end of 2013 to be at home with my girls, have been restored and then well and truly exceeded. But more than that – I am so grateful for the friendships and connections that I've made as a result. I have friends who I can share anything with, and the great thing about social media is that there's always someone awake…somewhere!  My dream is to inspire people to find their creative selves to brighten up every day – to find their own ways of expressing themselves, and to live a wholehearted life. Planning plays a part in that, as a means to organise our time to get what needs doing, and allow open spaces for relationships, relaxation and self expression.
Here are some of the sticker sets that can be bought from the Etsy store.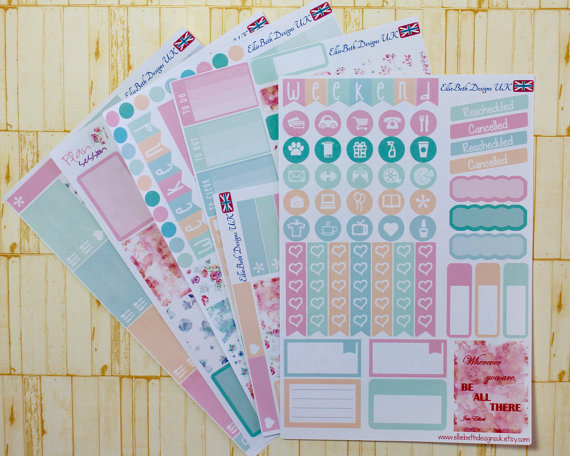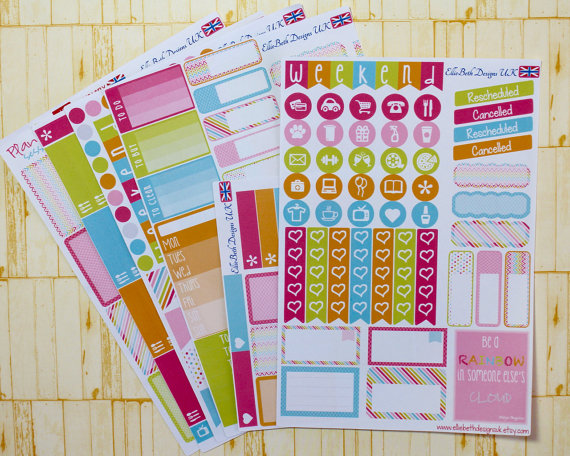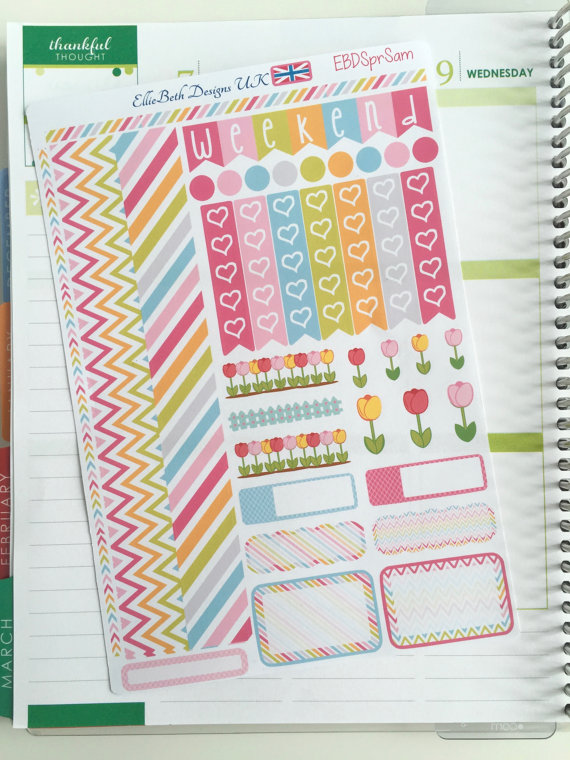 There are so many to choose from, from single sets like above to multi sheet sets. Available as functional stickers, to themed. Great for planners and scrapbookers.
You can find EllieBeth Designs on Etsy here.
On Instagram
And on Facebook
I will have some posts coming up this month on how I have used my stickers this month.
If you would like this month's exclusive stickers, then you can buy this month's kit here.
Thank you to Rachel for your beautiful stickers this month. We hope you will join us again very soon. Lisa x