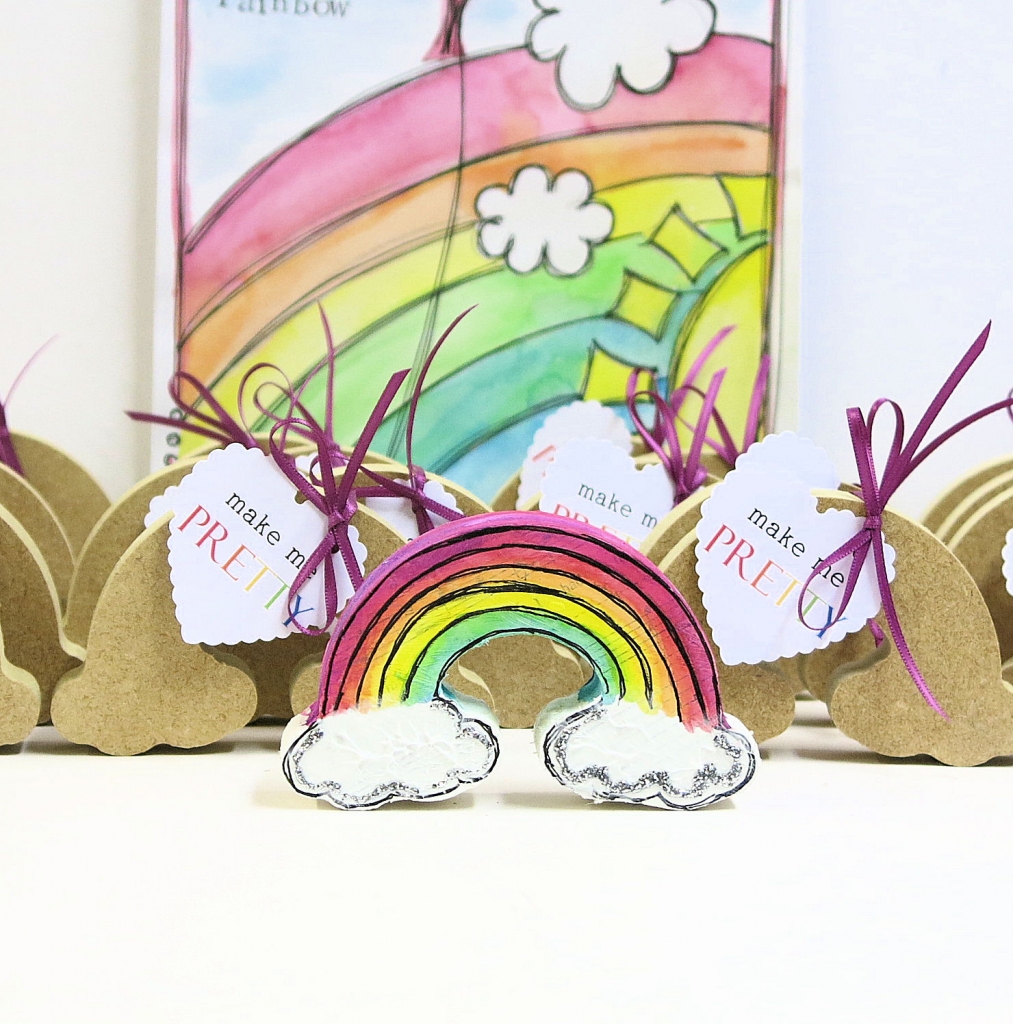 I wanted something a little different in this month's kit. I loved the idea of a free standing wooden rainbow. A rainbow that could be tarted up a little and put on display and left to look pretty. So I was really pleased when I found Custom Craft Shapes and even happier that Rebecca is just so lovely to deal with. Nothing was too much bother and I am so so happy with all the rainbows. Don't they look cute?!! 
I asked Rebecca to tell us a little about their company and how it all started. As a crafter & a small business owner myself, I love hearing other people's stories. I find them so motivating and inspiring.
This is what Rebecca has to say:
"Custom Craft Shapes was formed in 2013, it started off very small and all based from our home. Very quickly it took off and soon our house was covered in mdf, dust and boxes so we had to move out to a proper unit and take the leap into self employment. It was the best decision we have ever made.
We design and cut a wide range of MDF craft blanks in our workshop in Wrexham, North Wales.
We are a small family run (husband and wife) business. Steve, who is a trained carpenter, has a vast amount of experience in both the design and manufacture of bespoke wooden products. He is very creative and enjoys the design process, both creating new stock products and working with customers to create a bespoke piece to their specific requirements.
Rebecca deals with the admin work, answering your messages, sending the invoices and keeping our social media and website up to date. We have two employees who work for us also, Edgar who is our packaging expert and Callum who is training up to be a CNC programmer alongside Steve.
Our aims are to provide high quality products (we only cut from the highest quality moisture resistant MDF) and great customer service at affordable and competitive prices.
We have a massive amount of products and are expanding and adding to them all the time. If however, you don't see what you want please just get in touch as we are always happy to help.
Please check out our website www.customcraftshapes.co.uk or follow us on Facebook, Twitter or Instagram".
I've been looking at their website and have so many ideas of what I want to make for our home and also gifts for other people. When it comes to hand making Christmas gifts, I guess it's time to start thinking about them soon.
I have a tutorial to share with you next week showing you how I transformed my rainbow. I do love to play with paint and glitter!!
Have a lovely day.
Lisa x